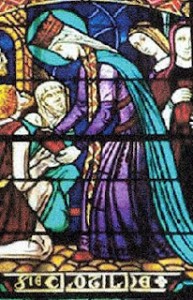 (Feast Day ~ June 3)
Each time we sing the Litany of Saints we are reminded of the numerous Christians whose pursuit of holiness are examples to us and who act as our intercessors in our struggles. We sing of many categories of saints: Apostles and Martyrs, Bishops and Confessors, Monastics, Virgins and Widows – all showing us that whatever our condition in life, we are to be engaged in this struggle. The life of St. Clotilda is an example of one who, despite a very difficult marriage to a king, lived a righteous life and brought her husband to the spiritual haven of the Church.
Clotilda was a Burgundian princess, born in Lyons around 474, into a family divided between adherence to Orthodox Christianity and Arianism. Clotilda was a devout Catholic but, as a teenager, was given in a politically motivated marriage to Clovis, the pagan king of the Franks.
Despite the promiscuous customs of the Frankish rulers (Clovis already had a son with a concubine), the king was very taken with his young Christian wife and soon came under her positive influence. As a condition of the marriage agreement, Clotilda was allowed to practice her religion freely and Bishop (St.) Remigius of Rheims served as her spiritual father.
Queen Clotilda went about her new life, honoring her husband for anything praiseworthy and quietly admonishing him for those things not consistent with a virtuous life. According to St. Gregory of Tours in his History of the Franks, written 80 – 100 years later, Clotilda tried to impress her husband with the beauty of Christian worship by seeing that her chapel was filled with beautiful hangings, fragrant incense, and dignified ceremonial. She told Clovis about Christ and his Gospel of love, but he remained steadfast in the worship of the idols of his ancestors.
The king gave his permission for their first son to be baptized, but when the child died shortly afterward, Clovis took this as a sign of the weakness of the Christian God. Despite her own grief at this loss, Clotilda was able to explain to her husband that she could rejoice that their child, having been washed and risen with Christ in the waters of baptism, was now asleep in the Lord awaiting the time when they would be reunited in Heaven.
A second son was born to Clovis and Clotilda and this son also became ill shortly after baptism, but recovered, so that the king could not present the same argument against Christianity. He was softening to the example and teachings of the queen but was fearful of what his conversion to such a religion would do to his position as leader of a people who were constantly engaged in treachery, revenge killings and violent conquest.
As with St. Constantine and other military leaders before him, the decision for Clovis was made after a dramatic victory in battle. In the midst of fighting with the armies of the Alamanni, when his troops were being slaughtered, Clovis called out to our Lord Jesus Christ, saying that his own gods were giving him no protection and that if Christ would save him in this battle, he would be baptized. Suddenly the Alamanni began to flee from the battlefield and Clovis found himself miraculously victorious.
When Queen Clotilda learned of this miracle, she immediately sent for Bishop Remigius to begin catechesis for her husband. After receiving the bishop's instruction, Clovis still expressed his concern for the reaction to his conversion of his soldiers and other members of his court. St. Remigius suggested that he simply speak to them publicly about it, so the king called an assembly of all the people. Before he could even broach the subject of baptism, representatives of the people announced to the king that they would like to become Christians and follow the faith of the queen and Bishop Remigius. So the whole kingdom rejoiced when, in the year 496, the king and many thousands of his subjects were baptized by St. Remigius in a glorious ceremony.
For the remainder of their lives together, Queen Clotilda had to continue the struggle to curb the king's warring tendencies, so long a part of his family heritage (which, unfortunately, their sons continued). The king and queen had a church built in Paris dedicated to the Holy Apostles (which was later renamed for St. Genevieve) and this is where King Clovis was buried at his death in 511.
As a widow, the queen retired from her public life and moved to Tours to be near the shrine of St. Martin, for whom she had a great devotion. Here she became a nun and spent her days in prayer and works of charity. She also was buried in the church in Paris after her death on June 3, 545. The day of her heavenly birthday is celebrated as her feast day.
May St. Clotilda serve as an example, especially for Christians struggling in difficult circumstances, and may she intercede for us as we strive for holiness.