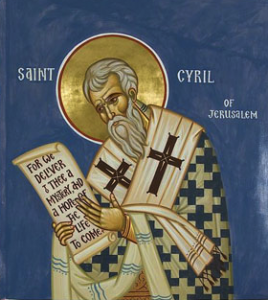 Feast Day ~ March 18)
Those of us who love history often wish for the "good old days." Orthodox lovers of history often wish for the golden age of a Christian empire when Church and State formed a perfect partnership. But if we honestly look at the facts of history without the rose-colored glasses, we see that more often than not, the relationship between Church and State has been very checkered and many of the saints of God have had to serve our Lord amidst conflict and persecution. Even after Christianity became the favored religion under the Emperor St. Constantine, the devil continued to plague those who followed Christ.
St. Cyril of Jerusalem was born in or near the Holy City in the year 315. There are no records of his early life, but we know of his ordination to the priesthood in the year 346. He was given responsibility for preaching to the faithful in Jerusalem and preparing catechumens for Baptism. Only four years later, Cyril became Patriarch of Jerusalem on the death of Patriarch Maximus.
A miracle occurred in Jerusalem during this time about which we have well-documented testimony. St. Cyril wrote to the Emperor about it and there were many eye-witnesses. On May 7, at about 9:00 in the morning, the form of a cross appeared in the sky over Jerusalem. It was positioned over Golgotha and reached to the Mount of Olives. This vision lasted for several hours and appeared to be brighter than the sun. Those who witnessed this phenomenon ran to the Church in Jerusalem, praising Jesus Christ as Lord of all.
In a manner which is usually associated with political rivals, Acacius, Archbishop of Caesarea, (who eventually became an outspoken Arian) began complaints against Cyril to his friend the Emperor Constantius. His jurisdiction over Jerusalem, his theology, and even his use of the funds of the Jerusalem church were used by Acacius to discredit him. Patriarch Cyril was exiled from Jerusalem and was given hospitality by Sylvanus, the Bishop of Tarsus. Here he spent his time in writing. Sylvanus later became a "Semi-Arian", and St. Cyril's reputation is sometimes clouded by his time spent with him, although Cyril never wavered from Orthodox belief.
Julian the "Apostate" became Emperor next and, contrary to what any would have thought, he recalled bishops who had been exiled by his predecessor, so Cyril returned to Jerusalem. Perhaps Julian intended to stir up more trouble among Christians as the Arian heresy was spreading rapidly.
Julian also proposed a project which was rife with controversy. He suggested to the Jewish population that they rebuild the temple in Jerusalem. Christian leaders such as Patriarch Cyril reminded the public that Christ had predicted the fall of the Temple and that his sacrifice had replaced all the animal sacrifices which the Jews had made in the Temple. When the Jews began the work of rebuilding, several earthquakes destroyed the work that had been done and put an end to the project. We have accounts of this event, which occurred in 363, written by St. Gregory Nazianzen and St. John Chrysostom, among others.
Patriarch Cyril endured another exile under the Arian Emperor Valens, beginning in 367, but was restored on the accession of Gratian in 378. The Patriarch attended the Second Ecumenical Council in Constantinople in 381, where he participated in the formulation of the Nicene Creed. In the year 386, at the age of 71, St. Cyril fell asleep in the Lord. He had been faithful to Orthodox Christian teaching through the turmoil of false accusations and exile due to an unholy mixture of politics and religion.
One of the most important gifts which St. Cyril gave to those of us who follow him are his lectures to catechumens. There are eighteen lessons to be given in Lent to those preparing for baptism and five "mystagogical" instructions given during Pascha to those who have just been baptized. These writings include references to liturgical practices and geographical information about Jerusalem and provide a wonderful picture of the Church in the fourth century.
For those of us who live in a time when the relationship between Church and State is often ambiguous and is becoming more hostile, may we seek the prayers of St. Cyril of Jerusalem to aid us in our struggles. Holy Cyril, pray for us.
Sources: Alban Butler, Lives of the Saints and Martyrs; Catholic Encyclopedia online; George Poulos, Orthodox Saints, Vol. I; St. Nikolai Velimirovic, Prologue From Ochrid.