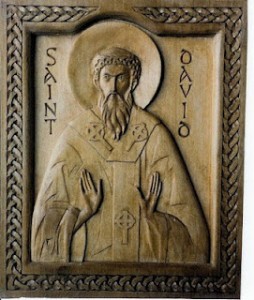 (Feast Day ~ March 1)
Nationalism and the fervor of a people for their heritage can be stirred by many things: the desire for independence from a ruling power; a common enemy or threat; the danger of losing customs and language. But how wonderful it is when the national pride of a people can be centered around the life and example of a holy saint. St. David, the patron saint of Wales, has inspired the Welsh people and assisted them through his intercessions, since the 6th century.
David (Dewid or Dewi in Welsh) was born around 497, the son of a local prince, Xantus, and his saintly wife, Nun, who brought their child up in the Christian faith. How Christianity came to this area of the British Isles, outside the Roman Empire, is an on-going matter of study and speculation on the part of historians. But there is no doubt that the Church was established and thriving in Wales, Ireland, and Scotland, and many saints led their people toward perfection in this part of the world.
After being ordained to the priesthood, David withdrew to the Isle of Wight to spend his time in prayer and the study of Holy Scripture under the direction of Paulinus, who had been a disciple of St. Germanus of Auxerre. When he felt sufficiently prepared for the life of a priest, David began to travel, in the Celtic tradition, throughout the land, preaching, teaching and establishing monasteries. As the older pagan religion was still very much alive, David encountered great opposition from some local chieftains, but was able to slowly win over these sceptics, both by his teaching and through his manner of living.
The first of David's monasteries was at a place called Menevia, later named for the saint. Here he established a community of monks whose ascetic practices were patterned after those of the monks of the Egyptian desert. The men ate only bread and vegetables, drank only water, and spoke only when absolutely necessary. They spent their days in manual labor, primarily farming; they partook of their daily meal in silence; and they spent the last three hours of their day in prayer and meditation. Each new day began with prayer before returning to labor in the fields. They practiced "prayer without ceasing", as they went about this daily routine.
The Pelagian heresy, which had threatened the orthodoxy of British Christianity in the previous century, and which had been refuted by St. Germanus of Auxerre, was revived early in the 6th century. A synod was called at Brevi in 512 to deal with this renewed threat. David was invited to attend, and he spoke so eloquently and with such conviction for the Orthodox faith that Dubritius, the Archbishop of Caerleon, resigned his bishopric in favor of David. After many tears and protestations, David agreed to be consecrated as bishop if the see could be moved to his monastery at Menevia.
Bishop David soon called another synod at Victoria to ratify the decisions of that at Brevi. In caring for his people, he continued in works of mercy, and in preaching and teaching. To the other ascetical practices, David added that of standing for many hours immersed in cold water reciting the Psalms. Through his gift of miracles, Bishop David restored the sight of a blind monk. He founded more monasteries – ten or twelve in all – and added a chapel to the ancient church at Glastonbury, thought to be the oldest church in Britain.
Bishop David lived to be a very old man. He fell asleep in the Lord on March 1 around the year 589 and was buried at his monastery. His holiness was acknowledged by all who knew him and he was declared a saint at his death.
The first written account of St. David is in the Irish "Catalogue of Saints" c. 730) which related that some of the Irish "received the Mass" from St. David. Nearly four centuries after his death, St. David's relics were translated to Glastonbury.
Even in our "post-Christian" era, St. David is revered as the patron saint of Wales and his feast day, March 1, is a national holiday, celebrated with leeks and daffodils! May all of us, whatever our national heritage, seek the prayers of St. David, the holy bishop and monk of Wales.