(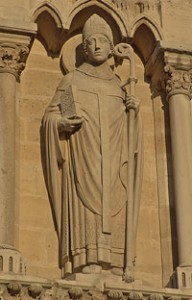 Feast Day ~ October 9)
On October 9, we venerate St. Denys. As with St. Bavo, whom we venerated on October 1, St Denys was adopted as the particular saint whose prayers were requested by the people of France, their patron saint.
In the early 3rd century, Denys (or Dionysius), who was Italian by birth, was consecrated to the office of Bishop and sent as a missionary into Gaul with five other bishops. Denys, along with the Priest, Rusticus, and the Deacon, Eleutherius, as his missionary companions, established a Christian center in the city of Paris on an island in the River Seine.
The preaching of the missionaries resulted in many conversions which threatened the pagan inhabitants. They were captured by the pagans, imprisoned, and finally beheaded, receiving the crown of martyrdom around the year 250.
Through many troubling times, the prayers of St. Denys, Bishop and Martyr, have been sought by the Christian people of France. As our country faces the dangers of war and terrorist attacks, may St. Denys pray for us, and may we – like the citizens of France – look to God and his saints and angels for divine assistance.