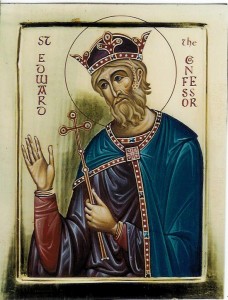 (Feast Day ~ October 13)
In the last years that English Christians were part of the undivided Church, before the schism which separated West from East, the country was ruled by a devout and holy king, Edward, "the Confessor." Edward was born in 1003, the son of King Ethelred (the "Unready"). He spent many years in exile because of the danger to Anglo-Saxon royal family members posed by the Danish invasions. As a young man, Edward developed an intense personal piety and was known to all for his holiness, a great rarity among those living at court. Edward was so highly regarded by the English people that he was urged to return to England by the nobles and leading churchmen in 1041. King Harthecanute, his half-brother, designated him as his successor and Edward was crowned king in 1042.
The Christian virtues of this ruler brought a period of much desired peace to the land. Edward was generous to the poor; he was fair in the laws which he enacted and lenient in punishments for small offenses. He was known to receive heavenly visions and he was blessed with healing powers. In 1045, Edward married Edith, who shared his great love of God. Some accounts say that they had both taken a vow of chastity which they honored after marriage, leaving them childless (and the country without a direct heir to the throne).
As a young man in exile, Edward desired greatly to make a pilgrimage to the tomb of St. Peter in Rome. His circumstances never provided the opportunity, so in later life, Edward decided to found a monastery dedicated to St. Peter. He donated the land and a good portion of his wealth to build Westminster Abbey. The monastic church was consecrated on December 28, 1065, but King Edward was near death and unable to attend the ceremonies. After his death, the king's body was buried in the Abbey and – through revolution, reformation and iconoclasm – his relics remained undisturbed. In later years, the church of Westminster Abbey became the place for coronations and other royal events.
Following Edward's death, as a result of the uncertain succession, the Normans were able to conquer England and alter the course of its history.
As we remember Edward – king and saint – we pray that England may someday return to the Orthodox faith. And, as we in our country prepare for elections, we pray for public officials whose service to God is above their service to men. Holy Edward, intercede for us.