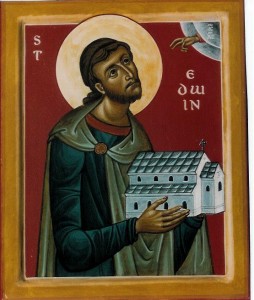 (Feast Day ~ October 12)
In its long history of monarchy, England has often suffered through the reigns of weak, immoral, and even wicked rulers. But it has also been blessed with some rulers whose exemplary lives gave their subjects much more than the expected prosperous economy and prestige among the nations of the world. These kings are venerated by the Church as saints and are now called upon to aid their people through their heavenly intercessions as they aided the people through their just policies in their earthly lives.
Edwin was born around 585, a prince of one of the numerous smaller kingdoms which were spread across Britain at that time. He spent much of his youth in exile because of warfare among rival chieftains, but after a great battle victory in 616, he became king of Northumbria.
In an effort to strengthen his political power, Edwin sought to marry Ethelburga, a princess of the kingdom of Kent. There were difficulties in accomplishing this union, as Ethelburga was a Christian and Edwin a pagan. After much negotiating, the marriage was approved, on the condition that Edwin allow Ethelburga to bring her chaplain with her. She and her household were to be able to freely practice their religion in Northumbria. As Edwin was a broad-minded and tolerant ruler, he agreed to this condition. Paulinus, the chaplain, was consecrated bishop and traveled to York with hopes for evangelizing the Northumbrian people.
Among all the "diplomats" at the Northumbrian court, the most skillful and successful were Queen Ethelburga and Bishop Paulinus. She exercised great patience, quietly teaching the king, by her example, the Christian virtues of charity and humility, and showing him her devotion to her Savior, Jesus Christ. The bishop, also, was patient, not criticizing the king's religion, but taking every opportunity to point out to him the marvelous works of the one true God. Gradually, the king became more and more receptive to this new religion.
The turning point occurred on Pascha of the year 626, as related by St. Bede the Venerable in his History of the English Church and People. On the day that the Christian world was celebrating the Resurrection of our Lord, Queen Ethelburga gave birth to a daughter. And on that same day, in the pagan kingdom of Northumbria, the king narrowly escaped an assassination attempt. With the emotional impact of these conflicting events, King Edwin made a vow to study and accept his wife's religion if he could be victorious over the enemies who had arranged the attack on him. His opportunity came soon and he won the battle. He was now ready to fight the battle for his soul against the forces of doubt, his pagan upbringing, and the intellectual hurdles which the devil put in his way.
In teaching the king about Christianity, Bishop Paulinus was aided by Pope Boniface, who sent letters of encouragement both to the king and to Queen Ethelburga. Love for Christ and His Church began to grow in King Edwin's heart.
In one last important political step before he could be baptized, King Edwin consulted with Northumbria's pagan spiritual leaders. The chief priest, Coifi, claimed that he himself was the most devout man in the kingdom, but that his devotion had won him no favor with the pagan gods. Another priest observed that their religion had taught them nothing of what had come before, or would come after, the short span of earthly life and that, if the new religion could shed light on these things, he would be in favor of it.
The last hurdle had been surmounted, so at the celebration of Pascha in the year 627, King Edwin and many of his subjects were baptized into the Christian faith.
Until his death in battle in 633, Edwin ruled his people with the same Christian virtues he had learned from his wife and from Bishop Paulinus. He was regarded by the Northumbrian people in his time and in future generations as a good and holy man and a model Christian ruler.
May God provide us with leaders (like King Edwin) who are willing to learn Godly ways from others and patience for those (like Queen Ethelburga and Bishop Paulinus) who would teach them.