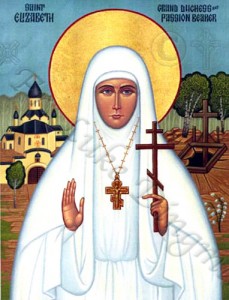 (Feast Day ~ July 5)
In this turned-upside-down world of ours, God sometimes provides us with examples of holiness in seemingly unlikely places. We are given a saint – an advocate in Heaven – whose path to sanctity was unusual.
The household of a German Grand Duke and his wife, a princess, would rarely be thought to provide the proper atmosphere for spiritual growth. But the family of Grand Duke Louis IV of Hesse and Princess Alice (a daughter of England's Queen Victoria) was just that. Their children learned to love God through the devout Protestant religion of their parents. Despite being surrounded by wealth and privilege, they learned to care for the poor and needy.
Orphaned at age 14 through an epidemic of diphtheria, Elizabeth came under the care of her grandmother, Queen Victoria, for a time. Always anxious to find suitable marriages for her large family, the Queen made certain that they became acquainted with all those who were eligible, often cousins. Ella, as she was called by her family, met and fell in love with Sergei Aleksandrovich Romanov, the brother of the Czar of Russia. At their marriage, Elizabeth became a Grand Duchess and her life now centered around the imperial court, where – even more than in her native country – she was surrounded by vast wealth and privilege, a life of formal ceremonies, parties, balls, and attendance at the ballet. Several years later, Ella's sister, Alexandra, married Nicholas, the heir to the Russian throne (and nephew of Grand Duke Sergei), and the two sisters were happily reunited.
In her new life, Elizabeth was also surrounded by the beauty of Orthodox worship. Noone forced her to convert from her Protestant faith but after seven years of observation, she asked to be chrismated. Her letters to her father explaining her decision show that she was determined that he not think the outward beauty and majesty of Orthodox churches and services had "charmed" her, but that she had come to believe the truth of Orthodoxy inwardly.
From the beginning of her life in Russia, Elizabeth had continued her practice of charitable works. The needs of the poor were great, and the duchess felt a responsibility to do everything she could to help. Having no children of their own, The Duke and Duchess became the adoptive parents of children of one of Sergei's relatives who were orphaned at an early age.
A tragedy even more horrible than the one she had experienced when she was orphaned as a teenager occurred on February 18, 1905. Grand Duke Sergei was assassinated by a revolutionary bomber as he was being driven in a carriage. Elizabeth went to the scene of the murder as quickly as she could and all were amazed at the strength God gave her to recover the pieces of her husband's body and to attend to the needs of the wounded coachman. The bomber was caught and sent to prison to await execution and Elizabeth even visited him to offer him forgiveness. She took a copy of the Gospels with her and urged him to read them and repent of his evil deed. There is no evidence that he followed her admonition.
As many widows had done from the beginning of Christianity, Elizabeth adjusted to her new state in life by helping others. She sold her jewelry and opened the Martha and Mary Home in Moscow to provide charity to the poor and orphans. In 1905, she became a nun, and with seventeen other women, formed the Sisters of Love and Mercy. Soon, the nuns opened a hospital and expanded their charitable work.
But such Christian endeavors on the part of royalty were not enough to prevent the violence of the Revolution in Russia. The monarchy had to be abolished, according to the revolutionaries. Elizabeth, along with one of her nuns, Barbara, and members and associates of the royal family were exiled to Yekaterinburg and Alapaevsk, and were then thrown into an abandoned mine shaft. Grenades were thrown into the mine to kill those inside, but the murderers told of hearing hymn singing for some time afterward. Elizabeth spent her last breath singing praises to God.
When the royalist White Army overtook the area for awhile, some of the relics were recovered from the mine shaft. Elizabeth and Sergei had provided funds for the building of the Church of St. Mary Magdalene in Jerusalem, and her relics were now smuggled out of Russia and sent there (via China) for burial. A convent was founded at this church and another in Moscow, where a portion of her relics was sent.
How many people, born to privilege and wealth, would be concerned for the plight of the poor? How many would greet the murder of a spouse with forgiveness for the murderer? How many would give up their worldly possessions in order to help the needy? How many would face their own murder by singing the hymns of the Church? These are the actions of a holy woman, one who has sufficiently risen above the passions of the world to be called a saint. Elizabeth was glorified first by the Russian Orthodox Church outside Russia in 1981 and the following year by the whole Russian Orthodox Church and now venerated by all Orthodox Christians. May St. Elizabeth, the New Martyr, pray for us that we may follow her example of holiness.
Sources: Recently Canonized Orthodox Saints: Their Lives and Icons by Dr. Jane M.DeVyver; Ella's Story: the Duchess Who Became a Saint, by Maria Tobias; on-line article via Orthodox Wiki.