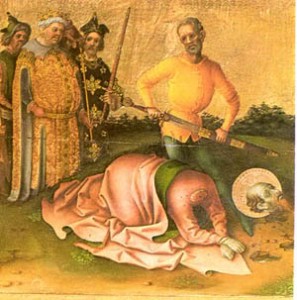 (Feast Day ~ March 11)
As Christians, we are called to proclaim, with St. Peter, that there is no other name than Jesus by which we may be saved [Acts 4:12]; with the Holy Apostles, we are commissioned to go and make disciples of all the nations [Matthew 28:19]; we are to take to heart our Lord's admonition to let our light so shine before men that they may see our good works and glorify our Father in heaven. [Matthew 5:16] But what do Christians do when acting on these beliefs results in their deaths?
In every age and place where Christians have been persecuted, this question has been asked and answered in different ways. The first Christian martyrs, such as our father in God St. Ignatius (d. 107) boldly went to their deaths and by the examples of their steadfast faith, the Church increased in the early centuries. But sometimes, protecting Christians from being killed meant preventing the extinction of Christianity in that time and place. These two attitudes were both being expressed in Spain when St. Eulogius lived and gave his life for the faith. We have an eye-witness account of his story, written by his close friend, Paul Alvar.
Eulogius was born early in the 9th century in Cordova, a member of a prominent Christian family. His education was entrusted to the clergy of the Monastery of St. Zoilus, named for a martyr in the Diocletian persecutions. Eulogius excelled in the study of the Scriptures and of Science, but maintained an attitude of great humility despite his superior intellect. He was ordained priest and made the director of a famous ecclesiastical school in Cordova.
By the year 800, most of Spain had been conquered by Muslim Arabs, and Cordova was made the capital of the Moorish kingdom. The Muslim authorities had to some degree honored Mohammed's rule that other "people of the Book" could be left to practice their own religion. Christians and Jews were given some freedom of worship and could hold governmental positions, but they were made to pay a tax, to wear a distinctive belt indicating that they were non-Muslims, and they could not build new churches or synagogues or attempt to convert Muslims. Churches could not ring bells or sing loud chants and no one could say anything against Islam.
But by the middle of the 9th century, the atmosphere had changed. Some Christians had apostatized in order to lead an easier life and this was of concern to those who remained faithful. There are records of many mixed marriages (although this was technically illegal) which caused confusion and discord among the children in such a family. Whatever the underlying causes, many Spanish Christians became more outspoken in defense of their faith and Muslims became more insistent on the full penalty of the law against rejecting Islam: death.
A period of persecution and martyrdom ensued and because of St. Eulogius we have a clear record of these events and circumstances. His work, Memoriale Sanctorum, recounted the trials and executions of many of these martyrs, which encouraged more Christians to be courageous but also incensed the Muslim authorities.
One martyr's story, as relayed by St. Eulogius, gives us a picture of what life was like for many Christians in 9th century Spain: A young woman named Flora was the child of a Muslim father and a Christian mother. Her father died when she was young and her mother raised her as a Christian. But an older son of the family was a rigorist Muslim and made life difficult for his mother and sister. According to Flora, the day-to-day practice of Christianity, such as fasting in Lent, had to be done secretly in order to keep peace in the household. Eventually, Flora escaped from home and fled to a monastery, but her brother tracked her down and turned her in to the authorities. When she refused to renounce Christianity, she was beheaded. There are numerous other accounts of Christians practicing their religion in secret and of others who simply turned themselves in to the authorities to avoid prolonging this difficult life.
The Muslim government soon became alarmed at the number of Christians who appeared to be "voluntary martyrs". They feared an uprising that would undermine their power, so Caliph Abd-er-Rahman II called the Christian bishops to a conference and forbade them to allow their people to openly declare their religion. The bishops, wishing to "keep the peace", condemned those who came forward and spoke out against Eulogius' writings. But Eulogius and many of his fellow Christians were not willing to hide their faith. There were also Muslims who longed for the freedom to be Christian and it was one of these who brought about Eulogius' martyrdom. The daughter of a prominent Moorish government official, Leocritia had been told about Christianity by a relative and secretly baptized. She sought help from the priest Eulogius, who was able to aid her escape from her family, hiding her for a while with friends. But this act was soon discovered and Eulogius was taken before the court.
When he saw that he was to interrogate a respected Christian scholar, the judge took Eulogius aside and, in an attempt to reason with him, said that ignorant people would simply blurt out their religious beliefs without thinking but that an intelligent man like Eulogius should be able to couch his statement in ambiguous enough terms that he needn't be condemned. Then he would be free to practice his religion any way he wanted to. But the priest made it clear to the judge that such subterfuge was not only dishonest but a sin against our Savior, Jesus Christ. So St. Eulogius was sentenced to death and was beheaded on March 11, 859. Ironically, he had just been elected Archbishop of Toledo, but martyrdom precluded his being consecrated.
In our day, there are many parts of the world where circumstances similar to those experienced by St. Eulogius exist. Christians are still persecuted in many parts of the world – in some places by execution and some in more subtle ways. Christians who live in Islamic or Communist countries face the question of how to react to this persecution every day. Even in our country, where the constitution guarantees the right to practice our religion freely, this is often interpreted as freedom from any outward and visible display of religion. How do we show forth the light of Christ or preach Christ crucified in these circumstances?
May holy Eulogius and all the saints pray for all Christians and show us the way to have courage in the face of persecution.
[Sources: The Lives of the Fathers, Martyres, and Other Principal Saints, Rev. Alban Butler; The Catholic Encyclopedia online; Moorish Spain, Richard Fletcher; The Barbarian Conversion from Paganism to Christianity, Richard Fletcher.]