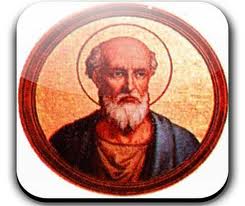 (Feast Day ~ October 26)
The earliest of the saints of the Church were the martyrs who gave up their earthly lives rather than deny Christ or pay homage to false gods. The early Martyrologies, or lists of saints' days as they were celebrated in the Church year, are filled with the names of innumerable men, women and children who were venerated by Christians in these first centuries. St. Evaristus, who died around the year 107, is one of these early martyrs.
Evaristus (or Aristus) was the successor to St. Clement as the Pope of Rome, the 6th in the line of those who were shepherds of the Christian flock in the imperial city. Taking on this office at this time amounted to receiving a death sentence.
Pope Evaristus is said to have been the son of Hellenistic Jews from Bethlehem who had fled to Antioch after the destruction of Jerusalem in 70. Nothing more is certain about his life except that he gave it up for his faith during persecutions under Emperor Trajan and was buried near the tomb of St. Peter. We celebrate his feast day on October 26.
And some there be who have no memorial… but these were merciful men whose righteousness hath not been forgotten. [Ecc. 44:9, 10]