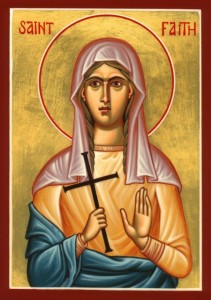 (Feast Day ~ October 6)
One of the reasons for venerating the saints of the Church is that their lives and even deaths provide us with wonderful examples to emulate. We learn from them what a courageous Christian witness, no matter the consequences, is like. We learn of bravery in the face of persecution. We learn that upholding the Truth is more important than living a comfortable, respectable life on earth.
Faith was a young girl who had embraced the Christian faith despite her parents' disapproval. When the Emperor Diocletian began the violent persecution of Christians, she was taken before Dacian, the procurator in Agen (France). Rather than defending their daughter against the authorities, her parents tried to persuade her to give up her beliefs and not threaten their standing in the community. But no amount of pleading could dissuade the girl in her steadfast defense of her belief in Christ. Despite her youth, Faith was tortured with a red-hot brazier which resulted in her death on October 6 in the year 287, the day of her heavenly birthday.
In the centuries following her martyrdom, the story of St. Faith became widely known and resulted in the devotion of numerous Christians and, unfortunately, even led to theft! A monk from another abbey stole the relics from the church in Agen and took them to his monastery where a shrine was established. The re-named Abbey of Sainte-Foy in Conques became famous during the Middle Ages as a place of pilgrimage and many miracles were reported by those who venerated the holy relics.
Even in our skeptical, rational world, we are aware that a part of a saint's body or a material object which belonged to a saint can convey a spirit of that saint's holiness to such a degree that it can bring about healing in the body or spirit of a believer. In our country since September 11, 2001, we have witnessed a spontaneous patriotic expression of this concern for relics. The places where those who died merely for being American are considered "sacred ground", and remnants of the buildings and personal belongings of people killed are being honored in museums. This gives us a glimpse of how the relics of the early Christian martyrs and those who have followed are to be venerated as conveying the holiness of the saint.
We pray that our devotion to Christ will be as strong as that of the young martyr Faith. We remember our Lord's words: "Whoever does not receive the kingdom of God as a little child will by no means enter it." Holy Faith, pray for us.