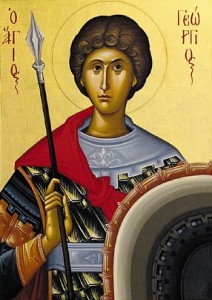 (Feast Day ~ 23 April)
There are few post-apostolic saints who have had the renown of the Holy and Great Martyr George. He is called saint not only because he gave up his life rather than renounce his Lord, but also because of the holiness of his life and the miracles associated with his relics and through his intercession since his martyrdom.
St. George has provided inspiration for great works of art (icons, paintings, sculpture); he is considered the patron of countries (England, Portugal), cities (Venice, Genoa), Archdioceses (ours), soldiers, and many other institutions and peoples; there are churches dedicated to him (from Constantinople and Rome to 16th Street in Washington, D.C.) throughout the world; and there are ancient manuscripts of writings of his deeds and miracles in Greek, Latin, Armenian, Coptic, Syrian, Ethiopian, and Turkish. He was numbered in St. Jerome's (341-420) list of martyrs, as well as that of St. Bede (673-735), and was included in the Sacramentary begun in the 6th century by St. Gregory the Great. By what great heroism and acts of devotion did St. George reach such fame?
Born in Cappadocia of Christian parents, George had been brought up in the faith and learned at an early age the cost of faithfulness to Christ when his father was martyred for his beliefs. George and his Palestinian mother went to her homeland where she owned property. When he reached a sufficient age, George entered the army and there distinguished himself for his bravery and physical strength, attaining the great honor of being named Trophy-Bearer by the Emperor, Diocletian. Although Diocletian had declared himself divine, he had thus far allowed the Christians in the empire to live in peace. However, in the year 303, he issued the first of several edicts (directed first at the clergy and later the laity) against Christians who refused to pay homage to him and renounce their God.
The saint did not wait to have his Christian allegiance discovered and challenged. He first divided his considerable wealth among the poor and released all but one of his servants – and this one he asked to stay with him until his death so that he could provide him with a proper burial. George then bravely appeared before Diocletian and confessed his great faith in our Lord Jesus Christ. Astonished by this revelation, the Emperor tried to dismiss George's attitude as youthful impertinence and to persuade him to offer sacrifice to the pagan gods. When the young soldier refused, he was carried off to prison and there began a series of tortures meant to break him of his resolve.
Each successively more extreme method of torture to St. George's body only served to strengthen his soul, and his endurance confounded his enemies. The Emperor, assisted by his counselor, Magnentius, and his chief magician, Athanasius, devised more trials for George and tests to pit the One True God against the pagan gods of the empire. Many who witnessed these things, and those who talked with George in prison, were converted to the Christian faith, as was Diocletian's wife, Alexandra. When the Empress confessed her faith before a large crowd of people, Diocletian's rage could no longer be contained and he immediately ordered the death penalty for both the soldier and the queen. Alexandra died on the way to her execution and George was beheaded on April 23, 304.
Of the numerous miracles associated with St. George and with churches dedicated to him, there are many which involve the return of kidnaped children to their parents. There are also many stories of conversion of pagans through miracles attributed to St. George. Although legends of St. George killing a dragon and rescuing a princess were popular in the Middle Ages, the dragon which appears in icons of the saint really represents evil and George's triumph over it. May the intercession of the holy George and his example of unwavering faith aid us on our journey toward sanctification.