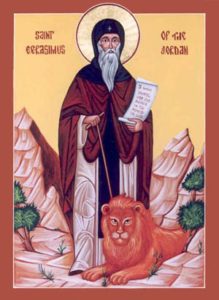 (Feast Day ~ March 4)
In the lives of the saints, we frequently encounter the phenomenon of affinity with wild animals: we read of St. Kevin of Glendalough, holding a bird in her nest on his outstretched arm while in prayer; and of St. Kenneth, who stilled the chattering of the birds during the Liturgy on Sunday mornings. St. Gerasimos of Jordan was a desert monk who, through his holy piety, was able to tame a lion. This story – which some will consider a "pious legend" similar to the Aesop fable of Androcles and the lion – was recounted by Archishop Sophronios of Jerusalem (d. 638), who wrote a life of St. Gerasimos.
The holy monk was praying beside the Jordan River, a place where he was able to find inner peace and tranquility, when he heard the roar of a lion. Rather than run away in fear, the saint looked around to see the beast crying in pain because of a great thorn in his paw. Gerasimos fearlessly went to the lion and pulled the thorn out, only to find that he had made a life-long friend! The lion followed him back to his cell where he remained for the rest of the saint's life and mourned his master when Gerasimos passed away. This story – like those of any saint with this ability – shows that the peace of Christ which a holy person carries in his heart can tame even wild animals.
The ability to tame a lion is not what St. Gerasimos is best known for, but rather his life of ascetic struggle. As a young man, Gerasimos turned away from the life of wealth and leisure that his family offered and began to live the solitary life of a hermit. Later, he traveled from his native Lycia (in Asia Minor) to the Egyptian desert to learn from the monks there. Eventually, he settled in Palestine, where he formed a monastic community of seventy monks who practiced a very extreme form of asceticism.
The rule which Abbot Gerasimos formulated for his monks was one of silent prayer with active bodies. The monks spent each day in their cells weaving mats and baskets; they partook of one meal of dry bread and a few dates each day; they owned only one piece of clothing and kept their cells open so that any one of them could come in and take from any other whatever he needed. On Saturdays and Sundays, the monks came together for worship, to present the fruits of their labors of the previous week, and to share a meal of boiled vegetables and a little wine. It is said that, during Lent, St. Gerasimos took only the Bread and Wine he received from Holy Communion.
This pattern of life did not shield the monks from the theological disputes of the day. St. Gerasimos had leaned toward the Monophysite position – that Our Lord had only one nature – but by the time he attended the 4th Ecumenical Council in Chalcedan in 451, he had been pursuaded by St. Euthymius of Christ's two distinct natures – divine and human – and was a staunch supporter of the Orthodox position. Returning to his monastery, St. Gerasimos continued his life of prayer until he fell asleep in the Lord in 475.
May we, following the example of St. Gerasimos, learn to tame our passions in submission to God's will, to live simply in prayer and honest work, and to seek the mind of the Church regarding Christian revelation. Holy Gerasimos, pray for us.
[Resources: Orthodox Saints, Volume One by George Poulos, Prologue from Ochrid by St. Nikolai Velimirovic, website of the Orthodox Church in America.]