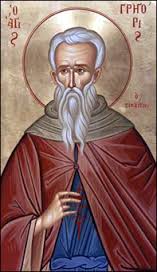 (Feast Day ~ April 6)
Life was dangerous for Christians living in parts of Asia Minor in the 13th century. St. Gregory of Sinai and his family found out just how dangerous when they were suddenly dragged from their home near the city of Smyrna by a gang of Arab Muslims (called "Hagarenes" in that day and place) intent on making slaves of the Christians. The members of this family were heartbroken as they were forced to leave everything behind and travel with the band of raiders.
When they entered the town of Laodicea, a predominantly Christian village, the father of the family begged their masters to allow them one more opportunity to worship as Christians, a request which was surprisingly granted. As they entered the church where the Liturgy was in progress, the captives lifted up their voices to join in the singing. They poured out all their sorrow in their chanting and the people of this congregation were amazed to hear such singing. When the service ended, they surrounded their visitors to find out who they were and where they were from. When they heard the story of their capture and the permission that had been granted for a brief visit to the church, the parishioners decided to pool their money and see if they could buy back freedom for these people. The priest took the money which had been collected and haggled with the leader of the band of raiders until an acceptable price for the captives had been settled upon.
This incident happened when Gregory was a young man and it made such an impression on him that it affected the rest of his life. As soon as it was possible, he left his family and traveled to Cyprus, where he entered the first stage of monastic life. Soon he traveled to St. Catherine's Monastery on Mt. Sinai, where Moses had received the Commandments. Gregory learned more of the monastic ascetic practices here and also performed expected manual duties as cook, baker, and copyist.
Gregory's next travels were to Jerusalem where he could walk in the footsteps of Our Lord. He then moved to Crete and met the monk Arsenios who taught him the Jesus Prayer and introduced him to the practice of stillness and quiet in prayer called hesychism. To engage more fully in this practice, Gregory moved to Mt. Athos where he remained for about twenty-five years.
Now the monk dedicated his life fully to fasting, to singing through the Psalter, to developing the practice of inner prayer in silence. Like St. Gregory Palamas, his contemporary also living on Mt. Athos, Gregory of Sinai was influential in establishing Mt. Athos as a center for hesychism. He founded several monastic cells on Mt. Athos and several monasteries in Thrace. Many of St. Gregory's teachings are recorded in the Philakalia, a collection of writings on the spiritual life. Perhaps remembering his fervor in singing that had saved him from slavery as a young man, St. Gregory also wrote hymns for the church.
It is sad that, after so many years of peace and solitude in a life of prayer, St. Gregory had to leave Mt. Athos near the end of his life. Turkish raiders began to attack the monasteries on Mt. Athos and it may be that the memory of his early experience led St. Gregory to leave and seek refuge in Bulgaria. He founded another monastery there in the mountains on the coast of the Black Sea, and that is where he fell asleep in the Lord around the year 1346.
It is still dangerous for Christians living in many areas of the world. May the intercessions of St. Gregory of Sinai protect those who are in danger and may the songs of the Church bring comfort to them in times of distress. Holy Gregory, pray for us.
Sources: A Cloud of Witnesses by Bishop Demetri Khoury; on-line articles from Orthodox Wiki, The Orthodox Church in America, and Wikipedia.