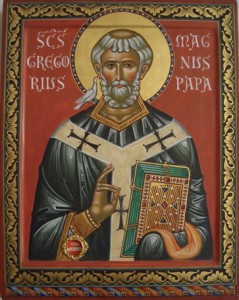 (Feast Day ~ March 12)
Our holy father in God, St. Gregory, has many appellations – "the Great", the "Dialogist", "Apostle to the English"; Patriarch (Pope) of Rome; "Servant of the servants of God"; Bishop, Confessor, and Doctor of the Church. Each of these titles represents a facet of the saint's life and brings with it lessons for us in the living of our lives – individually and as a parish named in his honor and under his guidance and protection.
Born around the year 540, Gregory was the son of a Roman Senator and, following in his father's footsteps, he also entered public service. Upon his father's death, however, Gregory gave away much of his wealth to aid the poor and founded seven monasteries – six in Sicily and one, dedicated to St. Andrew, on his family's estate on Rome's Coelian Hill. In 574, Gregory entered this monastery himself to spend his days in prayer and solitude. His mother, Sylvia, also took monastic vows at this time.
However, God's plan for Gregory did not allow him to remain in the secluded life for very many years. He was called out of the monastery to serve as one of the seven deacons of Rome and soon after, was sent to Constantinople as an emissary at the Emperor's court. During his six years in this position, Gregory learned much about the precarious state of the Roman Empire which had an effect on some of his actions later in life.
Upon his return to Rome, Gregory went happily back to his monastery, this time as Abbot. It was during this next period that Gregory, walking in the market place, saw fair-haired, fair-skinned children being sold as slaves. As Bede tells the story in the History of the English Church and People, Gregory asked to what nation these children belonged and when he was told that they were Angles, he said they appeared more as angels ("non Angli, sed angeli"). Learning that the Angles were a pagan people, blessed Gregory's heart was moved with desire to go to that far end of the Empire and bring the Gospel of our Lord Jesus Christ to the inhabitants of that land.
But it was not to be. In the midst of a great famine, with the people afflicted by a plague and threatened by the destructive invasions of the Lombards, Pope Pelagius II died and Gregory was elected to be his successor. Desiring no such "honor", the monk fled to the mountains until, as St. Nikolai Velimirovic tells us in his Prologue From Ochrid, "God showed people where to find him by making a fiery column, reaching from earth to heaven, appear at the place where Gregory was hiding." Surrendering to the will of God and the people, St. Gregory became Patriarch of Rome in the year 590.
In his first days, Pope Gregory taught his people to face adversity with fervent prayer by leading them in procession through the city. At Hadrian's tomb (now called Castle Sant Angelo), Gregory saw a vision of St. Michael sheathing his sword, a signal that their prayers were answered and the plague subsided.
As has been shown time after time, God's plan unfolds, not always as man has desired. Although Gregory was prevented from going to Britain to convert the Angles, he was able to send St. Augustine and many monks from the monastery of St. Andrew. These faithful men were able, through the grace of God and with the advice of their father Gregory, to bring the Anglo-Saxon people to devotion to Christ and His Church.
In the midst of their missionary efforts, the monks wrote many times to Gregory for his counsel – usually about very practical, everyday matters, some relating to the former pagan practices of the people: marriage, sex, celebrations. St. Gregory, through his wise and compassionate answers, showed them – and us – that Christians cannot separate the material from the "spiritual" and that all of life is governed by theology.
St. Gregory taught that we should know the lives of the saints who have gone before as a means of inspiration for our lives and that we should ask for their prayers. Dictating to his deacon, Peter (who often saw the Holy Spirit in the form of a dove at the saint's ear), St. Gregory wrote the Dialogues, detailing the lives and miracles of Roman saints.
Gregory was the first pope to call himself the "servant of the servants of God", indicating an attitude not of infallible power but of humble service. It is ironic that, because of weakness in imperial functions at this time, Gregory became deeply involved in political matters, something which became increasingly common with future popes. He chastised the Patriarch of Constantinople for adopting the title "Ecumenical" (which in Gregory's mind meant "universal" and therefore, "over all the others"), but bypassed the Emperor's diplomats in arranging for peace with the Lombards.
Gregory had an intense interest in the Church's liturgy and its music, making significant contributions to both. The Divine Liturgy which bears his name is the result of his re-organization and additions to the already existing Roman liturgy. He is also credited with writing the Liturgy of the Presanctified used by Byzantine congregations during Lent and with writing many hymns. His care for the chant which adorns the services of the church was so great that it also bears his name. We are reminded by St. Gregory that we are to worship God always with great care and devotion and to sing his praises daily.
St. Gregory's book on pastoral care, his homilies on the Gospels and other scriptures, and his many letters, show his practical concern for all facets of life and his knowledge that God's word provides us with the help we need for the living of that life.
Blessed Gregory fell asleep in the Lord in the year 604 on March 12, and the Church celebrates this day as his feast day. 1400 years later, we still seek St. Gregory's advice, we still take instruction from his words, we are still inspired by his missionary zeal. Holy Gregory, pray for us.
We therefore pray thee, O Lord, mercifully to accept this offering of our service and that of all thy family; to order our days in thy peace, to deliver us from eternal damnation, and to number us in the flock of thine elect. Through Christ our Lord. Amen.