(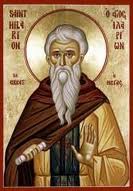 Feast Day ~ October 21)
In Palestine, in the city of Tabatha, south of Gaza, a son was born into a pagan family around the year 291. The boy Hilarion showed intellectual promise as he grew, so his parents sent him to Alexandria, one of the chief cities of the Roman Empire, to receive a good education. Hilarion's education was more complete than his parents could ever have hoped, for it was in Alexandria that their son discovered the teachings of Christianity and decided to give his whole life over to the practice of this faith and the worship of the Triune God.
At this time, St. Antony was living in the Egyptian desert and attracting much attention from the Christian world. His ascetic life was seen as another path to martyrdom and his triumph over the passions of this world inspired many others to seek this life. Among them was the fifteen-year-old Hilarion. The boy left the city for the desert and there spent about two months studying St. Antony's way of life. He determined to become a hermit himself and to withdraw from the active world in order to seek holiness in simplicity.
First Hilarion returned to his home, there to discover that his parents had died during his absence. He divided his portion of his inheritance between his brothers and sisters and the poor and was then free to pursue his dream of solitude. He set himself up in the wilderness near the Palestinian port city of Majuma, where he built a small hut and spent his time in prayer and fasting. He raised vegetables and wove baskets from the local rushes. While this life appears externally to be one of peace and contentment, Hilarion – like his master Antony – found that he was beset by temptations and spiritual battles.
Word of the hermit Hilarion began to spread and soon other men were gathering around him in an effort to lead the ascetic life. Although Hilarion never founded a formal monastery, many others were inspired by him to do so. The Bedouins who also inhabited the area grew to respect and admire Hilarion and many were converted by him. Before long, people were coming to him to seek his counsel and, as his wonderworking powers became evident, many came to be healed of illnesses and possession by devils. Hilarion – who only wished to work toward a heavenly reward – feared that he was receiving an earthly reward of fame, and he fled the wilderness to seek solitude in other places.
Hilarion's desire was for solitude, but God's plan was for him to have influence over a great many people. He moved several times to ever more remote places but was always found by others who told of his teachings and actions. After traveling through Egypt and Sicily, then Dalmatia (modern-day Yugoslavia), he settled in the most inaccessible part of the island of Cyprus. Even there, he was visited from time to time by those seeking to know him. One of these visitors was the holy Bishop Epiphanius of Salamis. The bishop later wrote what he had learned from Hilarion to St. Jerome, who was then living the monastic life in the caves of Bethlehem.
St. Hilarion fell asleep in the Lord in the year 372 at the age of 80. He was buried near his hut on Cyprus, but later his relics were moved back to Majuma by one of his disciples. About twenty years later, St. Jerome began to write his "Life of St. Hilarion", based on the letters from St. Epiphanius, and the story of this holy monk spread around the world. (Nearly 400 years later, St. Bede's monks were observing his feast day in their northern corner of the British Isles.)
One of St. Jerome's stories about St. Hilarion tells of an earthquake suffered by the people of Dalmatia when the saint was living there near the city of Epidaurus:
At that time there was an earthquake over the whole world…which caused the sea to burst its bounds, and left ships hanging on the edge of mountain steeps. It seems as though God were threatening a second deluge, or all things were returning to original chaos. When the people of Epidaurus saw this…fearing that what they saw had happened elsewhere might befall them and their town be utterly destroyed, they made their way to the old man, and as if preparing for a battle placed him on the shore. After making the sign of the cross three times on the sand, he faced the sea, stretched out his hands, and no one would believe to what a height the swelling sea stood like a wall before him. It roared for a long time as if indignant at the barrier, then little by little sank to its level. Epidaurus and all the region round about tell the story to this day, and mothers teach their children to hand down the remembrance of it to posterity. Verily, what was said to the Apostles, "If ye have faith, ye shall say to this mountain, 'Remove into the sea', and it shall be done," may be even literally fulfilled, provided one has such faith as the Lord commanded the Apostles to have.
Like St. Hilarion, may we seek to serve God alone, may we strive for faith that can move mountains, and may we ask for the prayers of the holy monk as we journey toward sanctification.
Sources: Catholic Encyclopedia; Nicene and Post-Nicene Fathers, Series II, Vol. VI; Oxford Dictionary of Saints; Oxford Dictionary of the Christian Church; One Year Book of Saints; Prologue from Ochrid.