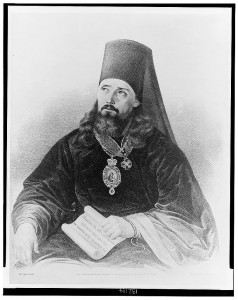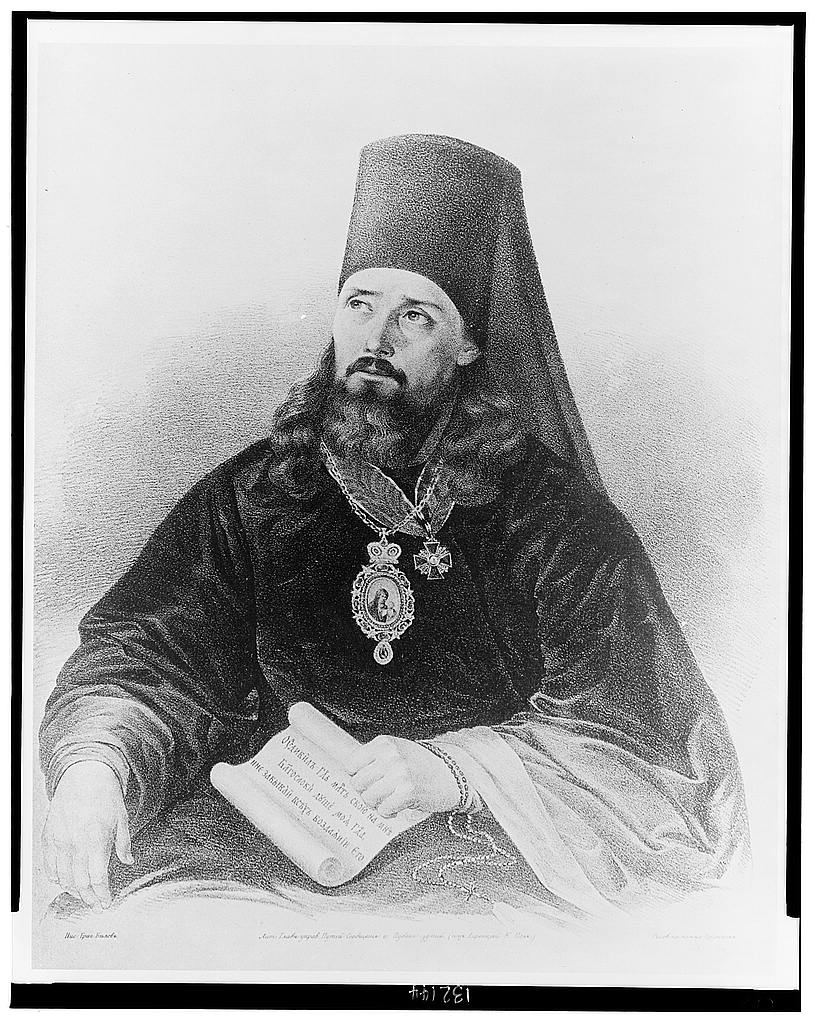 (Feast Day ~ March 31)
He was a linguist, a teacher, a writer, a craftsman, a scientist, a world traveler, a family man. While this could be a description of a "Renaissance" man such as a Galileo or da Vinci, these terms also describe St. Innocent, "Enlightener of the Aleuts and Apostle to America" who is commemorated on March 31.
Born in 1797 in a poor Siberian family, John was adopted by his uncle, Deacon Dimitry Popov, when his father died. As a student in a church boarding school in Irkutsk, young John showed great intellectual potential, reading everything he could. He also made friends with Bishop Benjamin and was given the name "Veniaminov", meaning "son of Benjamin". John's mental abilities were matched by skill with his hands, as he studied the mechanics of clock-making and the craft of carpentry.
At the age of 20, John married and began his family, which eventually included 2 sons and 4 daughters. He was ordained deacon and then priest in 1821 and given pastoral responsibility for a parish in Irkutsk. A few years later, church authorities announced that a priest was needed for the settlements which the Russian-American Company had established on Unalaska Island. There were no volunteers. No one wanted to go to this wild, far-away place. When the bishop chose someone by lot, that priest begged to be allowed to join the army instead – anything to avoid going to America! Then John Veniaminov offered to go. No amount of persuasion could talk him out of it, so he set off with his wife and young son, Innocent, his mother, and his brother. They "traveled on horseback through wide rivers, deep forests, boggy marshes and steep mountains. The Veniaminovs boarded ship at Okhotsk, and set sail for the chain of Aleutian Islands. After a harsh, 2,200 mile journey, the Veniaminov family arrived in America in July of 1824. They landed on the treeless, foggy, windswept, volcanic Unalaska Island, where they began their frontier life. Fr. John was 26 years old."
The mission of Fr. John was more than simply providing pastoral care for the Russian trappers, sailors and businessmen living in Unalaska. The native inhabitants of this land were receptive to the priest, and so a great missionary effort was begun. Living in a typical native underground hut, "Fr. John established a school for children and adults, incorporating Aleutian ideas and culture into his teaching of the basics of Christianity. Using his skills in carpentry, masonry and metal-working to teach the Aleuts, he began the construction of a church and a house built of pine wood brought from Sitka… Father John's flock was scattered among 10 settlements along this chain of islands, and his 'parish' consisted of more than 1,750 Russians, Aleuts and Creoles. Traveling by ship, kayak, reindeer and dog sled, Father John ministered among the Aleuts. He also studied the Aleutian culture and language. The Aleuts had no written language, and so Father John developed a written alphabet for them. He also wrote the first book in the Aleutian tongue: An Indication of the Pathway into the Kingdom of Heaven. Father John also translated portions of the Bible, a catechism and the Liturgy intothe Aleut language…During the little spare time he had, Father John eventually built all the furniture for his house, clocks for many of the rooms, musical instruments for his family and friends, and he also made candles for the churches."
Fr. John persuaded church authorities in Russia to set up a separate missionary diocese in Alaska, and he was moved to Sitka, which was then the center of Russian America. Here Fr. John worked among the Tlinget Indians, learning their language and translating the Liturgy and Scriptures for their use. Here he had to battle the Tlingit shaman to convince the people to be vaccinated against smallpox.
To raise money for the Orthodox mission work in Alaska, Fr. John built small pipe organs which he delivered to the Roman Catholic missions in California, communicating with the Jesuit monks in Latin. "Besides being a pastor, theologian, and educator, Father John was a carpenter, a clock maker, a navigator, a natural scientist (astronomy, geology, botany, biology, etc.), and an anthropologist. Whether he was on the road or in his study, Father John continually wrote books about al these aspects of life in Alaska. His workshop at his home in Sitka was his favorite getaway after his work was done for the day."
In 1838, Fr. John and his daughter Thekla began a journey by ship to St. Petersburg, which required a trip literally around the world. The purpose for the journey was to secure more missionaries to assist in evangelizing America, and to seek publication of his books in both Aleut and Russian. Fr. John's wife and four children had already left for Irkutsk to join the two older sons, who had been studying in the seminary there. "En route, Father John and his daughter visited Honolulu and Tahiti, and rounding Cape Horn at the tip of South America, they stopped at the Falkland Islands, Rio de Janeiro, then up to Copenhagen and Kronstadt before finally arriving in St. Petersburg on June 22, 1839, after a journey of seven and one-half months."
Unfortunately, Fr. John's wife, Elizabeth, died in Irkutsk before they could be reunited. The Metropolitan of Moscow made arrangements for the Veniaminov children to be taken care of and urged Fr. John to become a monk, which he did a year later (in November, 1840), taking the name Innocent. A new diocese of Kamchatka, the Kurile and Aleutian Islands was formed with Innocent as its bishop. "His diocese, centered at Sitka, was to include not only the Pacific rim of Asia, but Canada and Alaska and what would become the lower 48 United States. On September 27, 1841, just 100 years after Nicholas Bering had found Alaska and 47 years after the first mission, America met its first Orthodox bishop."
Bishop Innocent continually traveled from village to village in this vast land, founding schools, building a new cathedral in Sitka (the bishop made the clock for the tower himself), translating, and preaching. He was elevated to the rank of Archbishop in 1850, and his archdiocese was expanded to include even more territory.
When the archbishop's eyesight began to fail, he made plans to retire, but before this could happen, he was elected to be the Metropolitan of Moscow after the death of Metropolitan Philaret in 1867 (the year Russia sold Alaska to the U.S.). This new position gave Metropolitan Innocent pastoral oversight for all Russian territory as well as the mission now in the U.S. He moved the center of this mission to San Francisco and encouraged the use of English in the Liturgies in American churches.
Metropolitan Innocent fell asleep in the Lord on March 31, 1879 – Holy Saturday that year – and his relics were placed in the Holy Trinity-St. Sergius Monastery in Zagorsk. Less than 100 years later, the Holy Synod of Russia proclaimed Innocent a saint of the Church. We give thanks to Almighty God for the witness and work of this holy missionary, and those of us who are Americans give special thanks for his work in bringing the Orthodox faith to this land.
[All quotations from Portraits of American Saints, compiled and edited by George A. Gray and Jan V. Bear, published by the Diocese of the West, Orthodox Church in America, 1994]