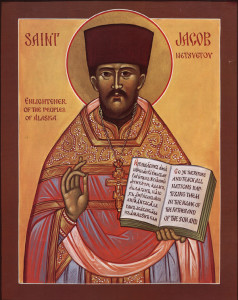 (Feast Day ~ July 26)
We are a country in which "firsts" are honored: the first woman to fly across the Atlantic; the first man on the moon; the first African-American Supreme Court Justice. It seems that being first in something is most important. Often these "firsts" are not only about the fact that no-one like them has done this before, but they are also about beating out the competition.
There are many "firsts" in the Church as well, but here the emphasis is different. These acts are usually ones of self-sacrifice – even martyrdom – acts of courageous efforts to spread the Gospel of our Lord Jesus Christ. St. Jacob Netsvetov, who was the first native Alaskan to be ordained to the priesthood, spent his entire life serving God in his Church in the most difficult of circumstances. We celebrate the feast day of St. Jacob on the day of his heavenly birthday, July 26.
The groundwork had been laid 70 years earlier when the first Orthodox monks arrived in Alaska to begin a great missionary endeavor. Among this group were St. Juvenaly, who became the first Orthodox Christian martyr in the New World and St. Herman, who built the first Orthodox monastery on Spruce Island in Alaska. St. Peter the Aleut became the first native martyr for his faith in 1816. Immediately preceding St. Jacob to Alaska was the priest John Veniaminov, a seminary classmate who would later be known as St. Innocent of Alaska.
Through these early efforts, Christianity had begun to be established among the native peoples of Alaska. St. Jacob's family was a mixture of Russian (his father) and Aleut (his mother), whose strong Christian faith was passed on to the children. When the family moved from the Alaskan island of Atka to Irkutsk, Russia, the sons were able to pursue higher education. His two brothers chose to attend the naval academy, but Jacob wanted to serve the Church and so enrolled in the Theological School.
After he was tonsured as a Sub-deacon, Jacob married Anna Simeonovna (a Siberian), and when he was ordained Deacon upon seminary graduation, he was assigned to serve at a church in Irkutsk. For the next two years, the young deacon served faithfully but with growing homesickness for his native land. When he was ordained to the priesthood in 1828, Fr. Jacob was given permission to return to Alaska to establish the Church of St. Nicholas the Wonderworker and to continue the missionary work already begun. Fr. Jacob and Matushka Anna were accompanied on the long journey by Jacob's father, Yegor, who had been tonsured as a Reader to assist in this work.
Following a year-long journey, Fr. Jacob arrived in Atka with his family to this: there was a house to live in but no church, so a tent had to be made to be used as a house of worship; the parish consisted of 2,000 miles of scattered islands, so the only possible means of travel was by kayak. These apparent hardships did not dampen the commitment of Fr. Jacob. He had grown up knowing the ways of this land and had the skills to survive in these circumstances. He fished and hunted for sustenance for his family; he carried the "church tent" with him on his journeys so that the Temple of the Lord could always be ready for Divine Liturgy and the sacraments of the Church; and since he was bi-lingual and bi-cultural, he was easily able to speak to, and identify with, all of his flock. The priest's first tasks were to perform numerous baptisms, chrismations, marriages, and burials.
Education was an important part of Fr. Jacob's work and he oversaw the construction of a school for the children as soon as a church building had been completed. He thought it necessary that the children, in this mixed community, should be able to read and write in Russian and their native language, Unangan Aleut. St. Innocent, who had arrived in Unalaska in 1824, had devised a written alphabet for Unangan Aleut, using Cyrillic letters and the two missionary priests corresponded with each other, sharing their methods and ideas. It was essential that the Holy Scriptures and the services of the Church be made available in the language of these people.
Fr. Jacob also collected specimens of local plant and animal life and sent them to Russian museums. Both he and his fellow missionary kept detailed records about life in the Alaskan islands. (St. Innocent was later appointed the first Bishop in Alaska and eventually became Patriarch of Moscow.)
The physical hardships of laboring in this vineyard began to have an effect on Fr. Jacob's health. He developed arthritis and other problems which made his work even more difficult at times. But nothing was as hard to bear as the loss of his dear wife, Anna, to cancer in 1836, only seven years after their arrival in Alaska. Within the year, his father and companion also died and his house was destroyed by fire. In his grief, Fr. Jacob wrote to the bishop in Irkutsk and asked to be relieved of his duties so that he could retire to a monastery in Russia. The bishop responded with permission to do this but not until a replacement could be sent.
The replacement never arrived, but Fr. Jacob was presented with another opportunity in 1841. The now Bishop Innocent was traveling past Atka and called for Fr. Jacob to join him on the ship so they could talk. The discourse they shared must have been a great comfort to Fr. Jacob because when the bishop asked if he would consider moving his missionary efforts inland to Kvikhpak (now called "Russian Mission") along the Yukon River, Fr. Jacob agreed.
Now he had new challenges. He had to learn the Yupik language and create an alphabet for translating the Scriptures and services once again. He still had to depend on travel by water and here, the weather was much colder. But he was given a deacon and two other assistants who provided much-needed support. In this new territory, Fr. Jacob often ministered to people whose communities had been enemies for hundreds of years. The priest, who was a gifted story-teller, was able to bring many of these enemies together as brothers.
Fr. Jacob continued his work of evangelizing the native peoples of Alaska, baptizing more than 1300 new Christians, despite failing health. But there were two more sorrowful trials for the saint to endure. Fr. Jacob was sent first one, and then another assistant to help with the expanding mission. The first priest was very disturbed and made slanderous and hurtful accusations against Fr. Jacob which the bishop dismissed. The second was actually insane (sent to Alaska because of trouble he had caused in Russia) and accused Fr. Jacob of trying to poison him; this man was eventually defrocked. But because of the stress of these trials and Fr. Jacob's weakened strength, the bishop assigned him to serve a small chapel for the Tlingit natives for his remaining years. Anna Netsetov's grave was nearby and Fr. Jacob now had a headstone made for it. When he passed from this life to the next on July 26, 1864, he was buried near her.
There were many "firsts" in the missionary work of the Russian Orthodox Church among the Alaskan natives, and St. Jacob Netsvetov shared in a number of those. We give thanks for the courageous souls who were the first to spread the Gospel in this land and we ask for the intercessions of St. Jacob as we strive to live out the Gospel in our lives. Holy Jacob, pray for us.