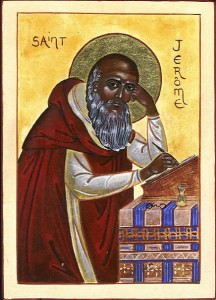 (Feast Day ~ September 30)
St. Jerome provides us with a wonderful example of how God can raise fallen, imperfect man to sainthood, when that man cooperates with the working of the Holy Spirit in his life. Jerome spent his lifetime struggling with his natural tendencies to be argumentative, sarcastic, and conceited; he spent the last thirty-five years of his life as a monk; and he is remembered as a priest, doctor, and confessor of the Church.
Born in Dalmatia around the year 341, Jerome showed early intellectual promise. He was sent to Rome to study rhetoric and spent time there visiting churches, and especially the catacombs. He was baptized there around the age of 25. While traveling in Gaul, Italy, and Dalmatia, Jerome decided to become a monk, but his initial attempts at establishing monastic life led to a quarrel (and possible scandal) and the first of several hasty departures. By the year 374, he was living in Antioch and then spent five years as a hermit in the Syrian desert.
Another of Jerome's struggles was felt in the first several centuries by many Christians who were well educated – the struggle to reconcile the Christian world view (which was radically different from that of any other group) and their classical training in oratory, logic, pagan literature, and mythology. (This was perhaps less a conflict in the East, where the continuity of the Greek language and philosophical categories encouraged a "Christianizing" of classical ideas). Jerome had a dream in which he was condemned at the heavenly judgement seat for being a philosopher rather than a Christian, so he gave up reading and studying his beloved classics and began preparing for the work which would occupy most of his life. Already fluent in Greek, Jerome learned Hebrew (at first from a monk in the desert who had been a Jew) so that he could study Old Testament writings in their original language. Jerome was ordained to the priesthood in Antioch and then went to study with St. Gregory Nazianzen in Constantinople, where he began his translations of earlier Greek works into Latin.
Returning to Rome, Jerome served as a secretary to Damasus (Patriarch of Rome, 366-384), who gave him the task of producing a standard text of the Bible in Latin – the one which became known as the Vulgate – incorporating some older Latin versions of biblical texts.
During this time a group of Christian widows who were attempting to lead semi-monastic lives turned to Jerome for spiritual guidance. He helped them in their study of scripture and advised them in godly living amidst the still largely pagan society of Rome. However, this association led once again to accusations of scandal, and Jerome left Rome in 385 after a stay of only three years.
This time, Jerome went to Bethlehem, where he established a monastery in the caves near the birthplace of the Savior (caves which can still be seen today). In this setting, the saint finally achieved some peace from the controversies of his earlier life, and he devoted the remainder of his life to studying, writing, and teaching. He opened a hospice for travelers to the Holy Land, of which he wrote: "Illustrious Gauls congregate here, and no sooner has the Briton…arrived at religion than he leaves his early-setting sun to seek a land which he knows only by reputation and from the Scriptures. Then the Armenians, the Persians, the peoples of India and Ethiopia, of Egypt, and of Pontus, Cappadocia, Syria, and Mesopotamia! They come in throngs and set us examples of every virtue. The languages differ but the religion is the same; as many different choirs chant the psalms as there are nations…"
St. Jerome combined a lifetime of study with zeal for the ascetic life. His translations and writings against various heresies have had a lasting influence on the Church, and his struggle against his personal "demons" can serve as inspiration for those of us whose personality traits also work against our witness to the faith.
When he died in Bethlehem on September 30 (his feast day), Jerome was buried under the Church of the Nativity, but his relics were later translated to the Church of St. Mary Major in Rome.
From St. Jerome's prologue of the commentaries on the prophet Isaiah: "If, as the apostle Paul says, Christ is the power of God and the wisdom of God, then he who is ignorant of the scriptures is also ignorant of the power of God and his wisdom; ignorance of the scriptures is ignorance of Christ."