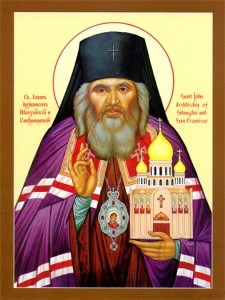 Feast Day ~ July 2
Michael, the son of Boris and Glafira Maximovitch, who was born in 1896 (in a village in what is now Ukraine), had several reasons to live a life of bitterness and sorrow. The first reason was ill health. Michael was sickly from birth, suffering from digestive difficulties. But the limits that poor health made on the normal childhood activities for the boy were offset by his intense interest in religious matters. It was obvious from an early age that God was calling this boy to a special purpose.
After graduating from military school in 1914, Michael studied at the Kharkiv Imperial University, receiving a law degree in 1918 as the Bolshevik revolution tore his country apart. The Maximovitch family were minor aristocrats and were, therefore, in great personal danger during these times. Once again, the young man was given a reason for bitterness and sorrow. But God was calling him to a different life, so when the family fled to Yugoslavia, Michael enrolled in the University of Belgrade to study theology.
After his graduation, Michael was tonsured (in 1926) as a monk by Metropolitan Anthony, who became the first bishop of the Russian Orthodox Church Outside Russia, as those Orthodox Christians who had fled from the persecutions during the Russian Revolution were known. Ordinations as hierodeacon and hieromonk followed that same year and then ordination to the priesthood as Fr. John. He began teaching in a Serbian high school and because of his knowledge of Greek, Fr. John also served the Liturgy for Greek and Macedonian exiles living in Belgrade. This was the beginning of his concern for many different cultural expressions of the Orthodox faith.
In May of 1934, John Maximovitch was consecrated Bishop and was assigned to the diocese of Shanghai and, after twelve years there, he was made Archbishop. During this time, John was untiring in his pastoral duties, building churches, hospitals and orphanages, caring for the sick, giving foremost attention to the services and prayers of the Church. His humility was apparent in the austerities of his life (often walking barefoot even in cold weather) and his shunning of worldly comforts.
When the Communists came to power in China after World War II, Archbishop John was once again faced with danger and exile. He led 5,000 of his community out of Shanghai in 1949, to the Philippine island of Tubabao where the refugees found shelter. The Archbishop traveled to Washington DC to make an appeal for the exiled Christians to enter the U.S. While in Washington, the future saint established the church which became the ROCOR Cathedral of St. John the Baptist.
John was sent to be the new Archbishop of San Francisco in 1962. Here he found great disunity among the Orthodox Christians and there was much opposition to his efforts at healing the dissension. Eventually, however, peace was established and a beautiful new cathedral, dedicated to Mary, the Joy of All Who Sorrow was built. The servant of God, John, fell asleep in the Lord on July 2, 1966 while accompanying a tour of the Kursk-Root icon of the Mother of God in Seattle. His relics are buried in a crypt chapel of the Cathedral in San Francisco.
These basic historical facts of the life of a dedicated churchman who served during difficult times and in many different places are enough to cause us to consider him a saint. But in addition to these facts, there are numerous stories of St. John's miracles of foreknowledge, of levitating while praying or celebrating the Divine Liturgy, of exhibiting an aura of "divine light" – these are all characteristics associated with the holiest of the early saints.
Those of us who worship according to the Western Rite have additional reasons to be thankful for the life and witness of St. John. Perhaps because of his broad international experiences, the Archbishop was very supportive of efforts to present the Orthodox faith in many different cultural forms. He welcomed the Gallican Liturgy of the Western Rite Orthodox Christians when he was in Paris and he encouraged devotion to Western saints, particularly during his time in San Francisco.
God did indeed have a plan for raising John Michael Maximovitch from the life of sorrow and bitterness which he could justifiably have led to one of joy in service to him instead. May God, in his mercy, grant us to rise above our physical and external limitations to joyful service, and may St. John of Shanghai and San Francisco pray for us.