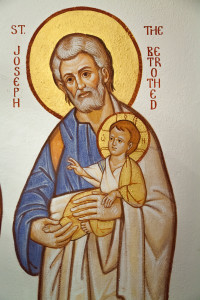 (Feast Day ~ March 19)
Like so many saints who have stepped onto the world's "stage" for a brief period and then disappeared from the records, St. Joseph is one about whom we have only the bare facts. He appears in Holy Scripture from prior to the birth of our Lord until the 12-year-old Jesus is found in the Temple. Then he disappears from the pages of history. God obviously had chosen Joseph for a particular role in the story of our salvation, he played his part with mercy and kindness, and then he is gone. As a devout Jew, Joseph had been waiting in expectation for the coming of the Messiah, and now, the part that he is asked to play in the coming of the Savior is of utmost importance in our salvation story.
The Church acknowledges that the most important thing which St. Joseph provided in these few years was his protection. The Blessed Virgin Mary was protected from shame and punishment; both Mary and the child Jesus were protected from cruel rulers; the truth about the God-man Jesus was protected from a too early revelation to the world; and above all, the fact that God had taken our form upon himself was hidden from the Evil One.
Among other important characteristics of St. Joseph, St. Matthew's Gospel begins with his family lineage. Joseph was a descendant of David, the great King, and Jesus – as the adopted son of Joseph – inherits this honor but is a greater King. St. Luke's Gospel fills in another detail of the story – that because of Joseph's family connection to David, who was of the city of Bethlehem, he and Mary had to travel to that city to register in the census that was being taken and that is where the birth of Christ took place. This fulfilled one of the prophecies of old: And you, O Bethlehem, House of Ephrathah, though you are fewest in number among the thousands of Judah, yet out of you shall come forth to me the One to be ruler of Israel. [Micah 5:1]
St. Matthew also tells us that Joseph was a "just" man. But if he had been merely seeking justice, Joseph would have reported Mary's pregnancy to the Jewish authorities and she could have been subjected to a severe and humiliating punishment. Instead, he showed mercy by deciding to seek a divorce privately in order to spare her such shame. But God intervened and sent one of his messengers – an angel – to assure Joseph that the child Mary was carrying was of the Holy Spirit and would save his people from their sins. [Matt. 1:21] Joseph, being not only a just and merciful man but also a devoutly religious man who believed the words of the angel, took Mary to be his wife.
Perhaps Joseph now realized his vocation as the protector of the Virgin Mary and her Child. He saved her and the Child when Herod the King, in jealous anger, had all Jewish boys under the age of two murdered. They fled to Egypt after Joseph received another message from an angel in a dream. This, too, fulfilled a prophecy: Out of Egypt I called My Son [Hosea 11:1]
When they were finally able to settle down as a family, it was in Nazareth to avoid being under another cruel ruler, Archelaus. This, too, was given to Joseph as a warning by an angel of God in a dream. It is presumed that Joseph pursued his occupation as a carpenter in Nazareth and taught his foster-son the trade. Hence, Jesus was ridiculed by those of his own hometown: Is this not the carpenter, the son of Mary? [Mark 6:3a]
As the head of a good Jewish household, Joseph made certain that the requirements of the law were fulfilled. Jesus was circumcised and named on his eighth day and He was presented in the Temple forty days after His birth when Simeon and Anna proclaimed amazing things about this Child. Scripture says that both Joseph and His mother marveled at those things which were spoken of Him. [Luke 2:33] The family also traveled to Jerusalem for Passover and it was there, when Jesus was twelve years old that He stayed behind in the Temple when His parents left for home and, after three days, was found by them speaking with the religious leaders. We are told that they then returned to Nazareth where Christ was subject to them [Luke2:51].
How much we can learn from holy Joseph! By following his example, we can learn to listen for the voice of God in our hearts, giving us direction for our lives – direction that we, living in the ways of the world, would not think of. Whether we experience God's direction through the dramatic appearance of an angel in a dream or by quietly praying, meditating, and listening, we should be like St. Joseph and believe that God has a plan for our lives and cares about the decisions and actions that we take.
We should also remember that we – members of Christ's body, the Church – are in the same royal lineage as St. Joseph. We are inheritors of the promises made to Abraham, Isaac and Jacob; to King David and all who followed. We are the New Israel, partakers of the New Covenant. As such, we will not only seek justice but always show mercy; we will remember that God's ways are greater than man's and that God's laws should always be interpreted through the love of Christ. If we look to St. Joseph for an example, we will observe the practices of our faith and teach our children to do so, and we will perform our earthly occupations with humility and patience.
Holy Tradition tells us that Joseph was an "old" man, a widower whose children with his first wife, Salome, are Jesus' "brothers and sisters" referred to in Matthew 13:55, 56 and Mark 6:3. His icon shows him holding the two turtle-doves which were offered at the Presentation of Our Lord in the Temple and he is depicted in the Nativity icon being tempted by the Devil to doubt Mary's virginity. Since the tenth century, March 19 has been observed as the feast day for St. Joseph in the West; on Eastern calendars, St. Joseph is honored with his ancestor, King David, on the Sunday following the Nativity or variously, December 16 or 26.
May St. Joseph the Betrothed – a just, righteous, and devout believer; the protector of the Blessed Virgin Mary and the Child Jesus – intercede for us. Holy Joseph, pray for us.
Sources: Orthodox Saints, Volume Four by George Poulos; Prologue From Ochrid, Part Four by St. Nikolai Velimirovic; The Orthodox Study Bible; article from Orthodox Wiki; article from the website of Fr. Serfes; pamphlet by Fr. Nicholas Solak, published by St. Vladimir's Seminary.