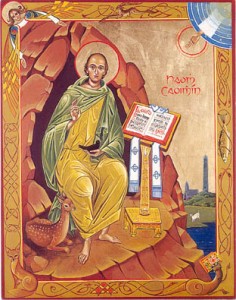 (Feast Day ~ June 3)
It is a human trait to want to follow the lives of the famous. We Americans have carried that trait to extremes in our day, with high profile trials of actors and athletes, tabloids recording every movement of those in the public eye, and television shows devoted to creating new "idols" for public adulation.
How much more wonderful it is when that very human need to connect with those who are famous is directed toward ones who exemplify Christian holiness and charity. In centuries past – before television, movies and instantaneous internet communication – the saints were often the focus of such public attention. St. Kevin of Glendalough was, both during his lifetime and after, the object of this kind of devotion.
Kevin (or Coaimhghin, Coemgen, or Keivin) was born at the end of the 5th century in Leinster, Ireland. His Christian parents had him baptized by (St.) Cronan and, with the aid of (St.) Petroc, sought to bring him up in the faith. At age 12, Kevin went to live in a local monastery for further education. Having decided to continue in the monastic life, Kevin was eventually ordained priest by Bishop Lugidus.
Seeking greater solitude for prayer and meditation, Kevin began to search for a place in the wilderness. Guided by an angel, he traveled to Glendalough ("the valley of two lakes"), where he discovered a Bronze Age cave tomb, which he used as a cell. This cell became known as "St. Kevin's Bed." There, for the next seven years, Kevin lived as a hermit. His ascetic practices were severe: he dressed in animal skins and his diet often consisted of nettles and herbs that grew wild in the area. He spent many long hours in prayer and developed a unique rapport with the animals who came into contact with him.
As has so often happened to holy hermits, word of this man spread among the nearest people, and soon Kevin was attracting followers. Out of necessity, he founded a monastery to accommodate those desiring the monastic life. Abbot Kevin made a pilgrimage to Rome, bringing back many relics for the monastery. Eventually, as the monastery grew, other houses were founded from this original one. Pilgrims seeking spiritual guidance came to the monastery to venerate the relics and to receive counsel, instruction, and the blessing of Abbot Kevin.
With renewed desire for solitude, Kevin left the monastery under the guidance of others and withdrew to the wilderness to live again as a hermit. His monks and other followers pursued him, however, and after four years, he returned to Glendalough to remain as abbot until his death (at over 100 years of age!) on June 3, 618.
Following his repose, pilgrimages to Glendalough continued, as the faithful came to venerate the relics of holy Kevin. Guest houses were added to the monastic buildings and hospitality became a major responsibility of the monks. A city grew up around this establishment and a cathedral was eventually built. Even today, tourists and pilgrims can see remnants of St. Kevin's monastery and evidence of the devotion which this holy monk has received through the centuries.
There are many tales about St. Kevin. Since the Irish have historically been great story-tellers, many of these probably fall into the category of "pious legend." However, they often reveal evidence of the great ascetic strength and reverence for animals that are doubtless literally true of St. Kevin. One story is often portrayed in pictorial representations of St. Kevin. It relates how, during one Lent, when the saint was in his hermit cell kneeling in prayer with outstretched arms, a blackbird flew into his open palm, built a nest and laid her eggs. In his compassion for one of God's creatures, St. Kevin remained motionless until the eggs had hatched and the baby birds had learned to fly!
When we succumb to our very human curiosity about the famous and prominent, may we remember that, in the eyes of God, the truly prominent are those who, like St. Kevin of Glendalough, have given their lives to prayer and service. May St. Kevin pray for us on our earthly pilgrimage.