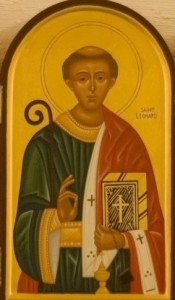 (Feast Day ~ November 6)
In the Psalms, we are told that the Lord "looseth men out of prison" [Ps. 146:7]; in the Gospels, Jesus tells us that we minister to him when we visit those in prison. On November 6, the Church presents to us a holy saint who took these words to heart.
St. Leonard was born in Gaul in the latter part of the 5th century, a child of Frankish nobility at the court of King Clovis. His family was baptized at the same time as Clovis, and Leonard was entrusted to the spiritual direction of St. Remigius, the Bishop of Rheims. As the boy grew to manhood, his sole desire was to serve God in a quiet way, away from the distractions and concerns of the world. The king wanted him to serve at court, but Leonard instead received the tonsure from the bishop and retired to a monastery.
Leonard's reputation for goodness was already well established. The poor and the sick had been coming to him for healing and comfort and he had made a practice of visiting prisoners. Now, as a monk, this work increased. The abbot of the monastery, St. Maximin, ordained Leonard to the diaconate, and gave him permission to preach to the pagans in the province of Limoges. There he found a forest which provided the ideal place for the solitude he so much desired. The nobleman who owned the land gladly gave it to the monk after his wife, whose life had been in danger, safely delivered a child with the aid of Leonard's prayers.
Leonard built an oratory in this forest dedicated to the Blessed Virgin Mary and called it "Our Lady Beneath the Trees". Soon, he was joined by several others who also wished to lead a life of prayer. Leonard continued his visitations to those in prison and the king gave him permission to free any prisoner who he felt merited freedom. The saint spent much time in encouraging these criminals (and those who had been wrongly imprisoned) to lead exemplary lives. Many came to his forest retreat when they were released from prison and hung their chains on a stone cross erected near the chapel. For those who stayed with him in the forest, Leonard cleared the land for planting and gave the former prisoners the chance to lead honest, self-sufficient lives. The men traded incarceration for prayer and hard work.
When St. Leonard died on November 6 about the year 559, his fellow monks buried him in the Chapel in his forest retreat. His intercessions continued to aid the faithful, especially prisoners, and he was revered throughout France, Germany, Italy, Spain, Belgium and Poland.
We ask for the continued prayers of St. Leonard for those who are in prison, for those who work with prisoners (especially in the Orthodox Prison Ministry), and for the repentance of those who are incarcerated.