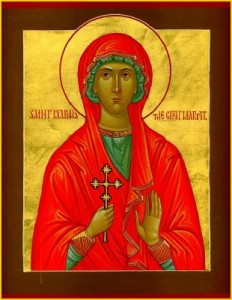 (Feast Day ~ July 20)
St. Margaret (or Marina) of Antioch is one of the martyr/saints of the early Church who became well-known throughout the world. Although she was undoubtedly a historical figure, the details of her life have been much embellished through the centuries and from place to place.
The basic facts of her life are that she was the daughter of a pagan priest, whose mother died shortly after her birth. During her childhood, she was cared for by a nurse who had converted to Christianity and who taught the child about Jesus. When her father discovered her new-found faith, he banished her from his home, so she moved to her nurse's home in the country, where she helped tend sheep.
Margaret's life soon took a path which was all too well-known to many young Christian women of that time. Her beauty attracted the attention of the pagan governor of the area, who tried to force her to respond to his overtures. During his seduction attempts, he discovered that she was a Christian, and because he could not win her over, he had her arrested and tortured.
During her imprisonment, Margaret was severely tempted by the devil, who appeared to her in a vision in the form of a dragon. Some Medieval versions of her life describe the dragon literally and say that he swallowed her, but that the cross which she wore caused him to spit her back out! This is a graphic way of saying that, by the power of the cross which she had embraced, the young woman was able to overcome the temptation to renounce her faith and live.
Consequently, after much torture, Margaret was killed for being a Christian and received the crown of martyrdom around the year 304 during the persecution of the Emperor Diocletian. Just before she was killed, Margaret appealed to her fellow Christians for prayer and promised that when she received her heavenly reward, she would pray for them, especially for those who are also dying and for pregnant women and their children.
Almost immediately, miracles were reported by those who asked for her intercessions. This were especially true for pregnant mothers, who prayed for her help during childbirth and for protection for their babies. St. Margaret soon became associated with other "helping" saints who are known as the Fourteen Holy Helpers.
In the Middle Ages, these saints were much revered and many churches were named for them. There are over 200 ancient churches named in honor of St. Margaret of Antioch in England alone. Some of her relics are preserved on Mt. Athos and in a monastery in Albania, where even the local Muslim population honors her for the miracles which occur through her intercessions.
May we continue in the 17-century-long tradition of asking for St. Margaret's prayers, especially for women in childbirth and for newborn babies.