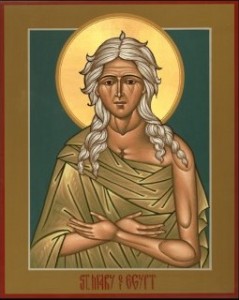 (Feast Day ~ April 2)
Mary of Egypt left her parents when she was twelve years of age. It was during the reign of the Emperor Justin. She entered Alexandria, and was a sinner in that city for seventeen years. Having visited Jerusalem, and, it being the feast of the Exaltation of the Holy Cross, having endeavored to enter the church of Calvary, she felt herself thrice repelled by divine power. Standing under the portico, she made a vow before an image of the Virgin Mother of God, that if our Lord would grant her to see and venerate the life-giving wood of the cross, she would lead a life of penance. Immediately, she entered the church; she saw; she adored.
Then, taking three loaves as provision for her journey, and having received the Eucharist in St. John's church on the banks of the Jordan, she withdrew into an immense wilderness, on the other side of the river. There, her provisions consumed, and her garments worn to tatters, she abode unknown to all, for forty-seven years, when she was discovered by the priest Zozimus. She asked him to bring to her, on the evening of Maundy Thursday, and on the other side of the Jordan, the body and Blood of our Lord, which she had not received during all these years.
On the appointed day, Zozimus came to the place that had been agreed on, and Mary, having made the sign of the cross upon the waters, walked over them, and came to the priest. Having recited the Nicene Creed and the Lord's Prayer, as was the custom, she received the divine gifts. She again besought Zozimus that he would come to the same torrent, the following year. He did so, and found her body lying on the ground on which were written these words: "Abbot Zozimus! Bury the body of this wretched Mary. Give back to the earth what belongs to it, and add dust unto dust. Yet pray to God for me." A lion then came towards the place, and making a hole in the ground with his paws, he prepared a grave for her body. [This was around the year 421.]
One of the most striking examples of penance ever witnessed…, Mary, the sinner and penitent of Egypt, comes to animate us to persevere in our Lenten exercises. Like Magdalene, she had sinned grievously, repented, atoned for her guilt, and is now the associate of angels. Let us adore the omnipotence of our God, who thus changed a vessel of dishonor into one of honor, let us lovingly contemplate the riches of his mercy, and hope for our own participation in them. At the same time, let us remember that pardon is not granted save where there is repentance; and that repentance is not genuine, unless it produce an abiding spirit and deeds of penance. Mary of Egypt had the misfortune to lead a life of sin for seventeen years; but her penance lasted forty; and what kind of penance must hers have been, living alone in a desert, under a scorching sun, without the slightest human consolation, and amidst every sort of privation! The pledge of pardon – the Holy Communion – which we received so soon after our sins, was not granted to Mary, till she had done penance for nearly half a century. That pledge of Jesus' forgiveness, which he has given us in the Sacrament of His love, and which was communicated to us so promptly, was withheld from this admirable penitent, so that she received it for the second time only at the moment when death was on the point of separating her soul from her body which was worn out by austerities! Let us humble ourselves at such a comparison; let us think with fear on this great truth – that God's justice will require an exact account of all the graces he has heaped upon us; and with this thought, let us rouse ourselves to a determination to merit, by the sincerity of our repentance, a place near the humble penitent of the desert.  (From The Liturgical Year by Abbot Guéranger)