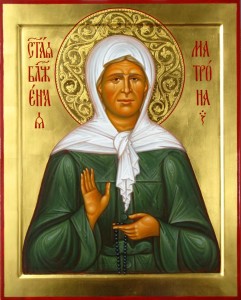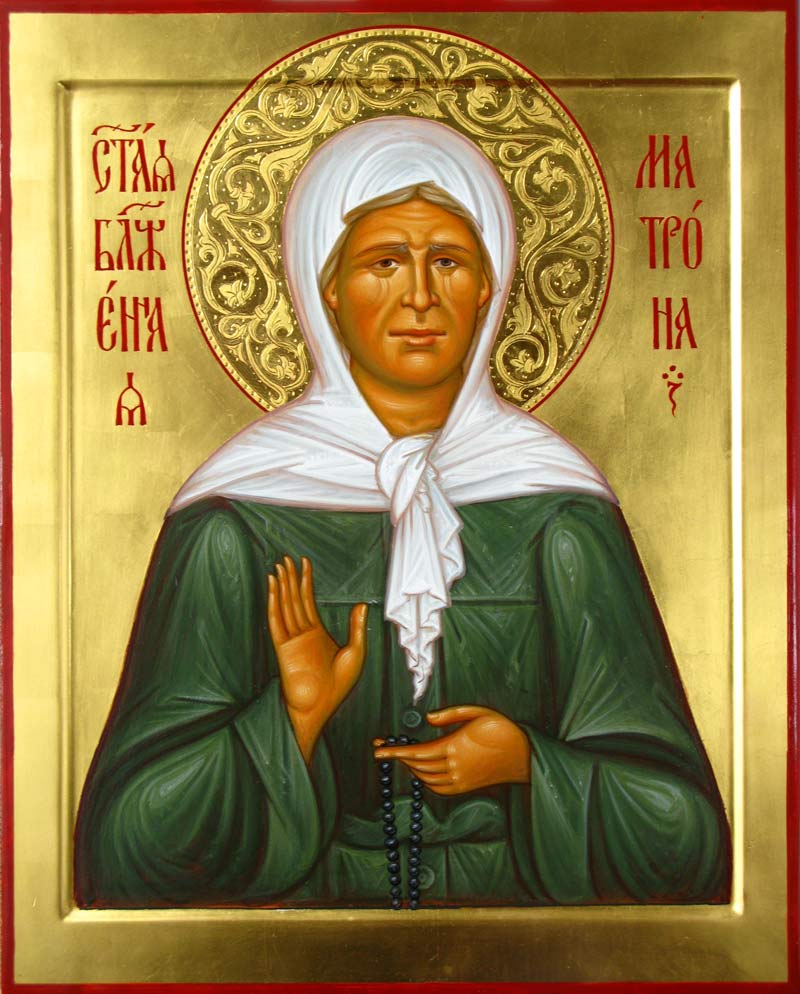 (Feast Day ~ May 2)
In 1881, in a small Russian village, the mother in a poor family was expecting her fourth child. Doubtful of the family's ability to feed another mouth, she decided to send the child to a neighboring village to an orphanage. The orphange had been founded and was supported by one of the royal family for the care of orphans, illegitimate children, and others whose families were too poor to keep them. But this mother changed her mind after having a dream in which her baby appeared to her as a beautiful white bird with a human face and closed eyes. Matrona was born without eyes – only lids tightly shut over empty eye sockets – but the devout Nikonov family determined to care for her as best as they could.
Even as a toddler, Matrona showed great interest in the things of God. She loved attending the nearby village church and would stand, meditating, for hours. Often, her family would discover her in the middle of the night, having taken their icons from the icon corner and talking to them in her childish language. Even then, she was communicating with the saints.
As she grew, Matrona's handicap of blindness was ridiculed by other village children, who threw things at her and made fun of her. Because of this, the girl spent more time at home and in church and it was soon discovered that her "handicap" was greatly balanced by a wonderful gift from God. She showed the ability to foresee danger and to be aware of peoples' troubles. By the age of 7, a gift for healing became known.
From then on, many people came to the family's home, seeking the prayers of little Matrona for healing of body and soul. They often brought gifts of food or money in thanksgiving, so the poverty of the Nikonov family did not increase as they had feared.
When she was a teenager, Matrona was taken by a patroness on a pilgrimage to holy places. Visiting St. John of Kronstadt and standing among the huge numbers of people who flocked around him, Matrona heard St. John call out for her to come near him. With his gift of spiritual foresight, he said of her, "Here is my successor, the eighth pillar of Russia!" With time, this prophecy became understood.
Another handicap came to Matrona at the age of 17 when she lost the use of her legs. From then on, she was limited to sitting on her bed most of the day and had to be carried wherever else she went. But her spiritual gifts increased and people continued to flock to her for advice, prayers and healing. Matrona predicted the Russian Revolution and warned of the persecutions which the Russian Christians would face.
During the years of Soviet rule, Matrona had to lead the life of a vagabond. Her two brothers, with whom she had been living, became Communists. They could no longer tolerate their sister's prayers and visits by so many people seeking spiritual help. So Matrona moved to Moscow and began to live wherever she could find shelter, constantly moving from one place to another. Her reputation caused the Soviet authorities to seek to arrest her, but it never happened. Matrona always knew ahead of time when someone was coming for her and her protectors always got her away in time to escape arrest.
Once, when she knew a policeman was coming to arrest her, Matrona stayed where she was and did not escape. She immediately told the policeman of a horrible disaster at his home, so he left her to discover that his wife had been badly burned by their stove and he was just able to get her to the hospital in time to save her life. The policeman refused to come back for Matrona!
When someone expressed pity that Matrona had no sight, she told them that God had once given her a vision of the whole world. She had seen the sun and moon, the trees and grass, birds and other animals. She also surrounded herself with icons which she could not see with her eyes, but which she knew with her heart.
When World War II broke out, many families of soldiers came to Matrona to ask about their loved one. She could always tell them if the soldier was alive and they should continue to pray fervently for them or if they had died and the family should prepare for their funeral.
After so many years of the suppression of Christianity, many Russian people turned to witchcraft and sorcery. Matrona was hated by those who practiced these "dark arts" and she often had to offer healing to their victims. She encouraged everyone to go to Confession and receive Communion regularly for their spiritual health and she always made certain that people understood that God had helped them through her – that it was not of her doing.
Foreseeing her death, Matrona gave instructions for her funeral and told everyone that, even after death, she would be with them, would be able to hear them and would continue to pray for them. She passed from this world to the next on May 2, 1952 and, as she predicted, miracles of healing continued when people prayed at her tomb. St. Matrona was glorified by the Russian Orthodox Church in 1999 and her relics were moved to the Convent of the Holy Intercession of the Mother of God, which has become a place of pilgrimage for many.
Why is it that we do not have people like her among us in America today? Where are these people who can predict the future and perform miracles? St. Matrona was immersed, she was "marinated" in the divine services of the Church, spending countless hours in her village church along with hours daily of her own private prayer. What are we in America immersed or marinated in? To what do we devote our time? Television, internet, Facebook, movies, magazines, shopping…. The Bible also describes the "fruit" of this type of immersion: adultery, fornication, hatred, jealousy, selfish ambition, dissension… (see Galatians 5:19) Which do you prefer in your life, the fruit which St. Matrona had or the fruit of this world? (From the website of the American Carpatho-Russian Archdiocese)
The world has not become closer to God since St. Matrona was alive. We pray that God will raise up saints like her for our spiritual help. Holy Matrona, pray for us and for the Church.