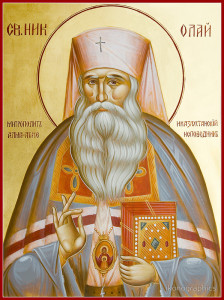 (Feast Day ~ October 25)
Christ warned his followers that they would experience hardships and persecutions for His sake: "…they will deliver you up to councils, and you will be beaten…You will be brought before rulers and kings for My sake…when they arrest you and deliver you up, do not worry beforehand or premeditate what you will speak." [Mark 13:9, 10]. But even with these clear warnings in Holy Scripture, it would have been difficult for Theodosius Mogilevsky to imagine such a thing. He was born in 1877 into a loving family devoted to life in the Church. His father, a church chanter instilled a love for the hymns of the Church in his children; his grandfather was a priest; and his mother and grandmother told him stories of the saints of God. It seemed that serving God in his Church was a wonderful vocation for a young man. So in December of 1904, Theodosius was tonsured as a monk and given the name Nicholas.
Nicholas moved quickly through the ranks of Deacon and Hieromonk. After graduating from the Moscow Theological Academy at the Lavra of St. Sergius of Radonezh, he was elevated to the dignity of Archimandrite. The year was 1911 and life in Russia was soon to change dramatically.
With the Bolsheviks in power, Nicholas was consecrated Bishop of Staridub and 4 years later was appointed Bishop of Kashir. Here he found that the so-called "Renovated Church" had taken over most of the parishes. The bishop's efforts to fight against this corruption of Christ's Church contributed to his first arrest in 1925. He was imprisoned for two years and on his release was appointed Bishop of Orel until his next arrest in 1932. This time, he was told by the one investigating his "crimes" that he had been arrested for his popularity with the people and the need to isolate him until he was forgotten by them!
The prison where Bishop Nicholas was sent this time was a "corrective" labor camp built on the closed and looted monastery of Sarov. As he went around the camp, kissing the windows and walls where icons had been and praying in what had been the cell of St. Seraphim, Bishop Nicholas felt that he was being protected by the saint.
Some time after his release from this prison, Nicholas was elevated to the dignity of Archbishop just before the invasion of Russia by Germany in 1941. Almost immediately, the bishop was arrested again, imprisoned first in Saratov and then deported to Kazakhstan. After 3 months in prison in one town, he was taken by train to the town of Chelkar for "voluntary exile". Here he was thrown off the train in the middle of the night, wearing only his underwear and a light jacket, and abandoned.
For the next seven or eight months, the 65-year-old archbishop lived as a beggar. His first nights were spent huddled at the train station, trying to keep warm. Some elderly women took pity on him and gave him some old clothes and he had to beg for money for food. Eventually – filthy and starving, covered with lice and skin sores – he lost consciousness. When he awoke, Archbishop Nicholas was in a hospital bed, being cared for by nurses and doctors who called him "granddad". While they worked to bring the homeless man back to health and strength, the archbishop did everything he could to help the other patients, and noone ever knew his true identity.
The person who had brought Nicholas to the hospital was a complete stranger – a Tartar who was his "Good Samaritan". This man sent regular packages of food to the hospital and, when it was time for Nicholas to be discharged from the hospital, he appeared to take him away so that he would not have to return to begging. Nicholas was able to ask him to contact one of his spiritual children, a woman who then came and took him in.
After making an appeal for release from his "voluntary exile", the Archbishop was granted his freedom in May of 1945 and in July, the Holy Synod of Russia created the new diocese of Alma Ata and Kazakhstan with Archbishop Nicholas as its spiritual leader, serving first in a small church in the center of town which had just recently re-opened. For the remainder of his life, Nicholas led the austere but joyful life of a monk-bishop, faithfully keeping all the services of the Church, often weeping while singing through them. He was loving to everyone and this love was returned by all who met him. There were often more than a thousand people in the cathedral for a Sunday service, and the Archbishop greeted and blessed each one of them personally.
There are many stories of the effect that this holy man had on others. On one occasion, when he had to fly to Moscow for a meeting of the Holy Synod, he appeared at the airport in his cassock and was ridiculed by others who were boarding the plane. Smiling, he gave each one a blessing as they boarded, which brought about much more jeering and ridicule. But when one of the plane's engines died and the pilot announced that there would be an emergency landing, the people on the plane began to panic until they heard the Archbishop praying. In the midst of his prayers, Nicholas assured them that they would be all right and would only suffer getting a little muddy. When the plane landed in a shallow swamp and all aboard were safe but muddy, they thanked the Archbishop respectfully, asked his forgiveness, and there was no more ridicule.
Although his health began to fail in his last years, Metropolitan Nicholas was always in church for every service. As he felt the end approaching, he asked the other clergy and nuns to begin the funeral rites for a bishop and he passed from this life to the next on October 25, 1955. In 2000, the Holy Synod of the Church of Russia glorified St. Nicholas of Alma Ata and Kazakhstan as a confessor, wonderworker and intercessor.
Just as the young boy who lived in the security of a loving family and the young monk who began his life of prayer in the Church could not have envisioned the persecutions and trials that he later experienced as a faithful Christian, we do not know what we may have to endure as Christians. But we do know that God will be with us as he was with St. Nicholas and that the saints of God – particularly St. Nicholas of Alma Ata and Kazakhstan – will intercede for us in Heaven. Holy Nicholas, pray for us.