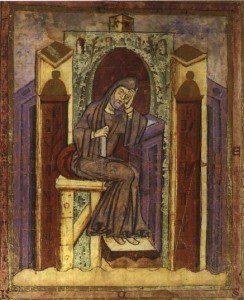 (Feast day ~ April 6)
In our celebration of Pascha, we rejoice in the restoration of the Alleluia after its Lenten "burial". With special exuberance, we sing the long, florid Alleluia before the Gospel at the Vigil Mass and the Alleluias at the dismissal, as have Christians from the earliest days of our liturgical celebrations.
A 9th century monk of the monastery of St. Gall (in modern-day Switzerland) was especially moved by this annual exclamation. He was Notker, nicknamed "Balbulus" or "stammerer" for his handicap of difficult, halting speech.
Notker had been born around 840 and showed promise as an intelligent young man. He studied with teachers from the monastery school and with their encouragement – and perhaps because of his speech impediment – Notker entered the monastery himself, where his gifts could best be offered to the glory of God. He served as the monastery librarian, as guest-master, and eventually as master of the school. Monastic life provided Notker with opportunities for developing his writing skills, which he used to produce a martyrology and a metrical biography of St. Gall.
The Monastery of St. Gall was well known for the special care which the monks gave to the singing of the services. It is one of the most amazing of God's ordinary, every day miracles that those who suffer from stammering speech are often able to sing words without hesitation and with clarity and beauty. Singing the long phrases of the Alleluia must have been a great joy for Notker.
When another monk, fleeing a disturbance in Normandy, arrived at the monastery, Notker examined his chant book and learned of the practice in other places of adding words to the long phrases of certain chants, such as the Alleluia and the Kyrie. This practice was called "troping". (Even with the simpler chant melody which we use for the Alleluia at St. Gregory's, we can see that adding extra descriptive texts to the notes would be tempting for a poet: "Alleluia…Christ our Savior is risen.")
Notker began composing words for the Alleluia phrases, developing a formal pattern of single and paired lines. These musical poems, called "jubilations" at first, eventually became known as Sequence hymns and were separated from the Alleluia chant and given independent tunes. Notker is credited with being the originator of the Sequence with many other poets and musicians following his lead.
St. Notker died in the year 912, having spent his life following the daily round of monastic prayer, singing Alleluia to the risen Lord, and composing Sequence hymns for the Church. Writing a century later, Ekkehard, the chronicler of the saints of the St. Gall Monastery, described St. Notker as "delicate of body but not of mind, stuttering of tongue but not of intellect…a vessel of the Holy Spirit without equal in his time."
May we, like St. Notker Balbulus, offer our handicaps and inadequacies to Almighty God, who will provide us with a way to sing his praises joyfully.