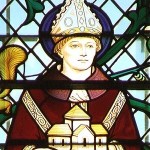 (Feast day ~ February 28)
Oswald was the son of Danish parents, but his extended family had long been established in Anglo-Saxon society. The boy was given to his uncle Odo, the Archbishop of Canterbury, to raise, and was educated in Canterbury by the Frankish scholar, Fridegode. Anglo-Saxon customs were based on the ties of kinship with responsibility for institutions within the society passed to relatives by members of a few noble families. Thus, when Oswald reached maturity, his uncle made him dean of Winchester Cathedral. There the young dean was in charge of the "secular" clergy who led the daily sacramental life of the Cathedral community.
But Oswald felt called to a more intense life of service in the church, so he entered the monastery at Fleury (France) where his uncle Odo had been tonsured. As a monk, Oswald became accustomed to the discipline of the Rule of St. Benedict. He took vows of poverty, chastity and obedience and led a life balanced between prayer and work. At Fleury, he made friends with two other English monks, Abbo and Germanus, who would later be called upon to help with Oswald's work. Oswald was ordained to the priesthood at Fleury in the year 959.
Oswald's uncle Odo called him to return to England, but he died before his nephew could comply. So Oswald sought out another relative, Oskytel, who was Archbishop of York. Oswald participated in the liturgical life of the cathedral in York until he was consecrated in 961 by St. Dunstan (who had succeeded Odo as the Archbishop of Canterbury) to be bishop of Worcester.
By this time, Bishop Oswald had become convinced that the monasteries in England needed to be reformed. Many were simply communities of priests who might be married with families, who owned personal property, and who had no abbot or other leader to whom they owed obedience. The rule of St. Benedict was not observed. Many monasteries and convents were founded on the estates of noblemen and were handed down from father to son, mother to daughter. The Anglo-Saxons had accommodated Christianity and its institutions to their way of life. The efforts of Archbishop Dunstan to change this pattern were taken up by Aethelwold, who became bishop of Winchester, and by Bishop Oswald. Each of these men pursued their purpose with different methods.
Of the three major reformers, Oswald was the most gentle in his efforts to change long-held customs. His main approach was to found new monasteries which would adhere to the principles of strict Benedictine monasticism and these monasteries would gradually provide the men who would be appointed to important positions as abbots, bishops, and archbishops.
The most prominent abbey founded by Bishop Oswald was that at Ramsey, founded in 971. His friend from Fleury, Germanus, came to lead this community and Abbo also came to found a school there. At Ramsey and other monasteries founded by Oswald, a high regard was given to study and to such artistic endeavors as manuscript illumination. According to Kenneth Hylson-Smith in Christianity in England from Roman Times to the Reformation "The monks of Winchester, Glastonbury, Ramsey and other refounded abbeys, in addition to copying liturgical manuscripts, expressed their rekindled devotion in holy week and Easter with the introduction of ceremonies and processions, and by re-editing their sacramentaries." Church music, architecture and furnishings also reflected this rekindled devotion. The Rule of St. Benedict was firmly established. These were true monks: celibate, committed to owning no personal property, and owing obedience to the abbot. These new monasteries were not hereditary or owned by an important family.
The revitalization of the monasteries in 10th century England was a commendable enterprise. But as Orthodox Christians who honor both the celibate and the married life for priests, we can only lament that this movement eventually resulted in the extinguishing of the married state for clergy in the West ("throwing the baby out with the bath water"). Happily, Western Rite Orthodoxy has restored this ancient practice.
In 972, Archbishop Dunstan appointed Oswald Archbishop of York, while he remained as bishop of Worcester. With many more ecclesiastical duties, Archbishop Oswald went as often as possible to the monastery of St. Mary's in Worcester, which he had founded. Here, following the daily hours of prayer with the other monks, he found rest from his labors, and it was here that he died. St. Oswald had been accustomed to serve and wash the feet of twelve poor men during Lent in imitation of Our Lord at the Last Supper. As he was finishing this task on February 29, 992, and praying to the Holy Trinity, he fell asleep in the Lord. His relics were eventually translated to York Cathedral.
Oswald – monk, bishop and archbishop – was acclaimed a saint immediately after his death. His personal piety and devotion had inspired many to repentance and amendment of life; his efforts on behalf of monasticism had produced faithful monks; his care for the poor had endeared him to the people; and his relics brought about many miracles. Holy Oswald, pray for us.