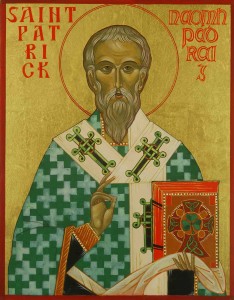 (Feast Day ~ March 17)
Has there ever been another saint so enmeshed in folklore, popular tradition, and ethnic pride as St. Patrick? And is it possible to peel away the layers of shamrocks, snake-herding and green beer to get a glimpse of the truly remarkable missionary to the people of Ireland?
Let us look at the writings of Patrick himself. In his Confessio, Patrick reveals that he was the son (probably born around 390) of the deacon Calpornius, the grandson of the priest Potitus, and that his family were landowners in Roman Britain.
When he was almost 16 years old, Patricius (as he was called by his family) was captured by slavers who carried him away to Ireland, beyond the boundaries of Roman civilization. There, in an area (probably in County Mayo) that he called the 'Forest of Foclut", the young slave was made to tend sheep and pigs for his master. He suffered from working long hours all alone in harsh weather, but during the six lonely years of his enslavement, Patrick became a man – spiritually as well as physically. He confesses that, as a child, he had not paid much attention to the Christian faith of his family. But now – with long hours to contemplate the great questions of life,
My faith grew and my spirit was stirred, and as a result I would say up to one hundred prayers in one day and almost as many by night…and I would wake to pray before dawn in all weather, snow, frost and rain; and I felt no harm… as I now realize, it was because the Spirit was fervent within me. [from the Confessio, as quoted in Peter Brown's The Rise of Western Christendom]
At age 22, Patrick found the will and a way to escape his captors. He managed to sail on a ship to Gaul where he spent some time before making his way back to Britain to rejoin his family. Although they begged him to stay close to home and never again risk being taken from them, the young man had a dramatic dream which changed the course of his life again.
In the dream, a man named Victoricus came to him with many letters in his hands. These, he said, represented the "voice of the Irish", who called upon the "holy boy" to come and walk among them again. Patrick accepted this dream as a call from God.
After some years of preparation (probably in Gaul) and consecration as a missionary bishop, Patrick once again sailed for Ireland – this time as a free man intent on converting the Irish people to Christianity.
There is historical evidence of the existence of some Christian communities in Ireland before St. Patrick's mission. Prosper of Aquitaine wrote in 431 that Pope Celestine had consecrated Palladius to be sent as the first bishop for "the Irish believers in Christ." Certainly, the Irish had established trade relations with Gaul and Britain and beyond. And it is even possible that the Christians whom Palladius was sent to serve included slaves like Patrick had been. But there is no record of Bishop Palladius and St. Patrick meeting or that their work coincided in any way and there is no further record of Palladius' ministry.
Patrick established himself around Armagh, near the High King and the story of his lighting the Paschal fire in defiance of King Laoghaire (which led to the conversion of the Druid Ercc), while legendary, may very well be historically accurate. Many thousands of conversions followed through the years of Patrick's missionary efforts.
As a former slave, St. Patrick was careful to teach and preach to all levels of society. He wrote a letter to the British warlord, Coroticus, protesting his practice of capturing Irish slaves and demanding the return of the Christians. (Patrick's protest went unheeded).
Bishop Patrick made practical decisions to help draw clear boundaries between Christianity and the Irish pagan religion. At his first Synod, some of the canons which were enacted included forbidding the clergy to wear the immodest kilt or to wear their hair long and flowing like Irish chieftains, and forbidding Christians to swear an oath before a Druid.
As is evident in his Confessio, St. Patrick was motivated in his mission by the Holy Spirit. He was truly an apostle for Christ.
Patrick's originality was that no one within western Christianity had thought such thoughts as these before, had ever previously been possessed by such convictions. As far as our evidence goes, he was the first person in Christian history to take the scriptural injunctions literally; to grasp that teaching all nations meant teaching even barbarians who lived beyond the frontiers of the Roman empire. [pg 86, Richard Fletcher's The Barbarian Conversion]
It is no wonder that the Irish are proud of their inheritance from St. Patrick, the tireless missionary who brought their pagan nation into the fold of Christianity. All Christians can look to St. Patrick for his evangelistic example and we ask for his prayers in our efforts to bring Christianity to our increasingly pagan nation.
[Sources: Peter Brown, The Rise of Western Christendom; David Farmer, The Oxford Dictionary of Saints; Richard Fletcher, The Barbarian Conversion: From Paganism to Christianity; Kenneth Hylson-Smith, Christianity in England from Roman Times to the Reformation; Edward Sellner, Wisdom of the Celtic Saints]