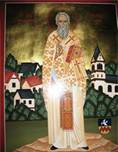 (Feast Day ~ October 1)
We Christians believe, as did our Jewish ancestors, that God is working in history to bring about his plan for mankind. Whether slowly and "in the fulness of time", or in a sudden, miraculous event, God's purpose for us is being made known. Our free will allows us to cooperate with this plan or rebel against it.
During the centuries when the Roman Empire was slowly crumbling and being transfigured by invading tribes of "barbarians", God's will for the spread of his Church was also being carried out, aided by individuals who fulfilled their duties bravely, patiently, and joyfully. St. Remigius (or Remi) was such a man.
We have few facts about Remigius. We know only that he was Gallican by birth and that at the early age of 22, through a relaxation of the canons governing minimum age limits and with great personal reluctance, he was consecrated Bishop of the city of Rheims, with the task of upholding Orthodox Christianity in an area that was surrounded by Arians to the south and pagans to the north. Remigius' great "moment" came at Christmas in the year 496.
The historical background to this pivotal event was this: Clotild, the Christian granddaughter of a Bergundian king, had been given in marriage to Clovis, King of the Franks, who practiced a Germano-Roman pagan religion. The marriage soon produced a son. Clotild wanted to have her baby baptized and pleaded with her husband to agree to it. She tried to sway him away from his pagan gods, saying, "The gods whom you worship are no good…They are carved out of stone or wood or some old piece of metal…You ought instead to worship Him who created at a word and out of nothing heaven and earth, the sea and all that therein is…" The King was not persuaded but the Queen had the baby baptized anyway. The child immediately became ill and died, which only strengthened Clovis' resistance to his wife's religion.
Shortly after a second son was born and baptized, Clovis and his army were caught up in a terrible battle with the Alamanni. Surrounded by slaughter and fearing annihilation, the King in desperation called upon our Lord. As told less than 100 years later by St. Gregory of Tours in his History of the Franks, Clovis raised his eyes to heaven and said: "'Jesus Christ, you who Clotild maintains to be the Son of the living God, you who deign to give help to those in travail and victory to those who trust in you, in faith I beg the glory of your help. If you will give me victory over my enemies, and if I may have evidence of that miraculous power which the people dedicated to your name say that they have experienced, then I will believe in you and I will be baptized in your name.'" Even before his desperate prayer was finished, the Alamanni had begun to surrender and beg for an end to the fighting.
When Clovis told Clotild of his "deal" with her God, she asked that Bishop Remigius come from Rheims to instruct her husband in the Christian faith. The bishop came in secret and spent time with the King, convincing him of the truth of Christianity. Now Clovis' only reluctance was his knowledge that his people would never give up their old gods and follow him into this new religion. But the one True God had already prepared their hearts and minds, and before Clovis could even broach the subject with them, the people announced to their king that they wanted to become Christians. In the words of St. Gregory of Tours:
[Bishop Remigius] ordered the baptismal pool to be made ready. The churches were adorned with white hangings… sticks of incense gave off clouds of perfume, sweet-smelling candles gleamed bright and the holy place of baptism was filled with divine fragrance. God filled the hearts of all present with such grace that they imagined themselves to have been transported to some perfumed paradise… Like some new Constantine [King Clovis] stepped forward to the baptismal pool, ready to wash away the sores of his old leprosy and to be cleansed in flowing water from the sordid stains which he had borne so long. As he advanced for his baptism, the holy man of God addressed him in these pregnant words: 'Bow your head in meekness. Worship what you have burnt, burn what you have been wont to worship.'…King Clovis confessed his belief in God Almighty, three in one. He was baptized in the name of the Father, the Son and the Holy Ghost, and marked in holy chrism with the sign of the Cross of Christ. More than three thousand of his army were baptized at the same time.
 St. Remigius, later called the "Apostle to the Franks", was able to spread the Gospel and found churches among these people until his death in 533. He was a man noted for his immense learning, for his holiness of living, and for performing miracles. But he is remembered primarily for responding to the plea of a persistent wife and for his patient teaching of a King – actions which changed the course of a people and affected the history of nations. We give thanks for St. Remigius and pray for the same ability to cooperate with the wonderful plan of God.
Sources: Rev. Alban Butler, Lives of the Saints; Henry Chadwick, The Early Church; David Hugh Farmer, The Oxford Dictionary of Saints;. Gregory of Tours, The History of the Franks.