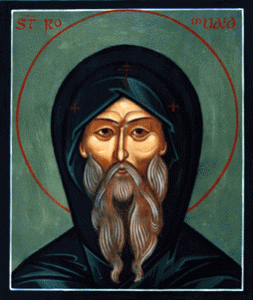 (Feast Day ~ February 7)
In the more than 1700-year history of Christian monasticism, there have, no doubt, been many reasons why a young person has decided to leave the comfort and pleasures of the world and take on the ascetic life of a monk or nun. Murder has not usually been one of them. But it was the killing of a relative by his father that sent St. Romuald of Ravenna fleeing to the spiritual safety of a monastery when he was 20 years old.
Romuald was born into an aristocratic family around the year 951 and enjoyed all the worldly pleasures typical of a wealthy youth of that – or any – age. To end a dispute over property with another family member, Romuald's father proposed a duel and insisted that his son be present as a witness, threatening disinheritance if he refused. When his father killed the relative, Romuald was sickened by his heartless love of property above life, and he was filled with the need for repentance, which he knew his father would not feel. So Romuald sought sanctuary in the Benedictine Abbey of Sant'Apollinare in Classe near Ravenna.
After much time spent in weeping, praying and fasting, the young man gradually found peace within himself and he realized that, in this place, in this manner of life, he could have this peace always. He begged to be admitted as a monk and, after some hesitation regarding his position as the heir of a nobleman, the abbot allowed him to join the monastery. Here Romuald remained for seven years, practicing asceticism with great fervor.
Eventually, the young monk was given permission to retire to a remote area near Venice, where he lived the life of a hermit under the direction of Marinus, an older and more experienced monk. The two became known for their holy wisdom and were often consulted by others for counsel.
Among those seeking help was the Doge of Venice, Peter Urseoli, who had been involved (either directly or indirectly) in a political conspiracy that resulted in the murder of his predecessor. Urseoli's conscience so plagued him that, on the advice of the hermits Romuald and Marinus, he too decided to enter the monastic life and joined the Abbey of Saint-Michel-de-Cuxa, where his advisors established a nearby hermitage. Romuald encouraged many other noblemen to follow the ascetic life and was eventually able to convince his father to repent of his earlier sin and take on the monastic life.
Romuald continued to found monasteries. He had experienced the monastic practices of several different traditions: that of the Benedictine rule at Sant'Apollinare in Classe, the Irish eremitical tradition with Marinus his elder, and Spanish monastic practices at Cuxa. Romuald was able to call upon these various traditions in establishing his own monastic houses. For what eventually became known as the Camaldolese order, his rule includes this admonition: "Empty yourself completely and sit waiting, content with the grace of God, like the chick who tastes nothing and eats nothing but what his mother brings him." This shows the emphasis which St. Romuald placed on meditation and silent prayer, and the importance he, like all monastics, placed on singing the Psalms as a basis for meditation.
Not all was smooth sailing, however. When the Emperor Otto III asked Romuald to become the abbot of an ancient monastery whose monks needed a more disciplined way of life, the monks rebelled, threw his abbot's staff at his feet, and forced him to resign. But Romuald was able to successfully establish other monasteries and hermitages throughout Italy – in Fonte Avellanak Camaldoli, and Val di Castro, where he died on June 19, 1027.
An altar was built over St. Romuald's tomb, and many miracles were reported at this place. About fifteen years after his death, Peter Damian wrote the first biography of the saint. His relics, still incorrupt, were translated to Fabriano on February 7 in 1481, and this is the date which we celebrate as his feast day.
May we, like St. Romuald, resort to silent meditation, prayer, and the Psalms to still our souls amidst the crises and turmoil of our lives, and may we seek the intercessions of St. Romuald before the throne of heaven.