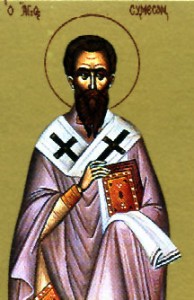 (Feast Day ~ April 17)  
Fiery threats from Iran's ruler, volatile relationships between Iran and other countries, and unrest among its citizens are not new in this century and the last. 700 years ago, when there was a Persian Empire, King Sapor II made life difficult for many and was especially cruel to Persians who were Christians. St. Simeon was singled out by the king for special attention and received the crown of martyrdom by his order in the year 341.
We know from his surname in the Persian language that Simeon was the son of a fuller. Beyond this, there are no other details of his early life until he became a disciple of Bishop Papa of Ctesiphon, the capital of the Persian Empire. When Bishop Papa died, Simeon succeeded him as the bishop of that city with responsibility for the Christians who were experiencing persecution.
The official religion of Persia was Zoroastrianism, in which the king was worshiped as "equal to the sun". He was also called "king of kings" and "partner with the stars". Under Sapor II, who had been declared king by the nobles of that land when he was still in the womb of his mother (one of the several wives of the now deceased King Hormuz), these accolades had been carried to extremes. Perhaps in an effort to solidify his questionable claim to the throne, Sapor had demanded adoration and complete loyalty from all his subjects.
Sapor's increasing demands put Christians in an impossible situation. Many leading citizens had managed to practice their religion privately and maintain public positions of responsibility, but that was made more difficult by the severe taxation which King Sapor began to impose on them.
The Roman Emperor, (St.) Constantine, offered aid and encouragement to the Christians in Persia. This enraged Sapor, who wrote to Constantine complaining of his interference in Persian affairs and also complaining of the loss of Persian territory to Roman expansion. No doubt, some of Sapor's animosity toward Christians was due to this political rivalry with the Christian Roman Emperor.
Bishop Simeon, in an effort to alleviate the suffering of his people, petitioned the king for a reduction in the religious tax that Christians were charged, but this also enraged Sapor, who began a series of bloody persecutions. The first, in 327, resulted in the martyrdom of many who professed the faith. After a lull of some years, the king again violently attacked the Christians in 339, and then in the following year, he began his final persecution – one which would last for nearly 40 years, until his death in 379. It was in this persecution that Bishop Simeon's appeals to the king were ended.
The angry ruler decided that the Christian religion must be abolished in his land, so he ordered all churches to be destroyed and all Christians to be enslaved or killed. The bishop was brought before the court and, in the usual manner, was "tempted" with riches, power, freedom – anything that could be offered to entice him to worship the king and renounce Christ. But Simeon boldly proclaimed his steadfast faith in the true "King of kings". He was finally brought before Sapor, bound by chains, and ordered to fall down before him. When the bishop refused, he was cruelly tortured and sent back to prison to await execution. This was Maundy Thursday.
As Bishop Simeon was led through the gate of the palace, he saw an elderly eunuch who served as the king's Lord High Chamberlain. The bishop knew that this man was a secret Christian, but that, in order to avoid persecution, he had obeyed the king's command and publicly worshiped him and the sun. When the man made a gesture of respect to the bishop, Simeon turned away and would not acknowledge this apostate. The man suddenly came to himself and realized the depth of his sin. In his remorse, he declared his Christian faith to the king, who had no choice but to order his execution. The king honored his servant's request to have an official go before him announcing that he was being executed for his religious beliefs and not for any wrong-doing in his official capacity. The king thought this would be a deterrent for other Christians, but it only gave them greater courage.
The next day – Good Friday – a hundred Christians (among whom were five bishops and many priests and deacons) were beheaded, while Bishop Simeon was made to wait until last. As one of those awaiting execution began to tremble, another of the king's officials who was also a secret Christian called out to the man to close his eyes and behold the light of Christ. His efforts to encourage another revealed his true identity and he was beheaded with the rest. Last of all, after watching and praying for each of the others, St. Simeon gave his life for his faith in Christ. This was on April 17 in the year 341. They all died in the sure and certain hope of resurrection with Christ.
May St. Simeon and his companions pray for all followers of Christ who live under the threat of persecution and for those who suffer for their faith.