(Feast Day ~ June 2)
When we hear the name St. Sophia, we usually think of the 2nd century mother of daughters Faith, Hope, and Charity, who saw her children tortured and murdered for being Christians in the persecutions of the Emperor Hadrian. We also think of the term "Hagia Sophia" – Holy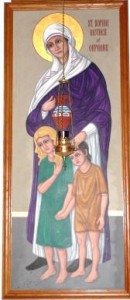 Wisdom – which has been used for church names since the time of the great Hagia Sophia church in Constantinople.
But there is another, less well known St. Sophia whom we honor on June 2. Sophia had everything that a young woman could ask for: enough wealth to live comfortably, a loving husband, and six beautiful children. Sophia made certain that her children were brought up in the Christian faith. But with the cruel suddenness of worldly disasters, Sophia's happy life came to an end during a plague epidemic. She watched helplessly as her husband and all six children were stricken with the illness and died.
After a period of mourning, Sophia realized that she could not continue to harbor her grief, nor could she waste her life asking the foolish question, was God punishing her for some wrong she had done? She knew that, having been spared from the pestilence, God now expected her to live the remainder of her precious life in his service.
Sophia consulted her parish priest, who helped her distribute much of her wealth to the needy, and then she opened her spacious home as a place of refuge for the many children who had been orphaned by the plague. She is said to have adopted more than a hundred children, and she loved, cared for, and taught each of them as she had her own biological children. Sophia became known as the "Mother of orphans".
A story is told of St. Sophia's hospitality which is reminiscent of the Old Testament story of Elijah and the self-replenishing cruse of oil given to the widow of Zarephath [I Kings 17:8ff]. Whenever anyone would come to St. Sophia's house to ask for help or inquire about any of the children, she would always offer them a cup of wine. Strangely, the Greek urn in which she kept the wine never emptied no matter how many cups of wine she served. After many years, Sophia told this to her parish priest who assured her that she had been witnessing a miracle. This same priest urged her to take vows as a monastic and she continued her service and ended her life as a nun.
The Psalmist said, weeping may endure for a night, but joy cometh in the morning." [Ps. 30:5]. St. Sophia shows us how this applies to the life of one who has experienced great sorrow, but who, through caring for others, received the joy of having served Christ faithfully. May we follow her example and may she pray for us at the heavenly throne.