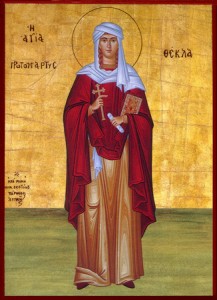 The news is filled with stories of wayward youth – those who have rebelled against the rules of society and their families and who have begun lives of crime, or at the least, irresponsibility. In the Church, however, we hear of youth on a different path, of those who have seen the beauty and truth of Jesus Christ even before their parents and who have given their lives to following him against all odds. St. Thekla, one of the saints of our Patriarchate, is an example of such a young person.
Thekla was born in Iconium around the year 16. She was 18 years old and engaged to marry Thamyris, when St. Paul and St. Barnabas visited her town to preach the Gospel (as related in Acts 14). Although her parents and fiancé were strongly opposed to the talk of this new religion, Thekla was fascinated and wanted to be part of the crowds who gathered to hear Paul speak. Her mother forbade her to go, but Thekla discovered that, just by sitting at the open window of her room, she was able to hear every word. For three days, she took it all in, amazed at the difference in the life that Paul described and that which was planned for her as a soon-to-be matron in pagan Roman society.
Thekla's family and Thamyris were alarmed at the effect that Paul's preaching was having on her. They – and many others in the city – went to the governor and demanded that he put a stop to this disturber of the peace. So Paul and Barnabas were arrested and put in prison to await trial.
Hoping for more stories of Jesus and His teachings, Thekla secretly went to the prison, bribed the guard with pieces of her jewelry, and went in to Paul's cell where he continued teaching.
Discovering this clandestine activity of her daughter's, Thekla's mother went again to the governor and demanded an immediate judgment in the case against Paul. The governor complied by having Paul stoned and expelled from the city. He also chastised those who had listened favorably to the Apostle's preaching. The young girl responded by declaring that she had decided to forego marriage and instead would devote herself to living out the teachings of Christ as a virgin.
Thinking that the threat of severe punishment would be just the thing to bring Thekla to her senses, the governor sentenced her to be burned at the stake if she did not renounce this folly.
But Thekla was resolved, and so she went willingly to her punishment. But God had other plans for this courageous young woman, so a sudden thunderstorm with heavy rains caused the fire to be put out. Wanting to be rid of the whole affair, the governor ordered Thekla out of the city, never to return.
The young woman immediately sought to catch up with Paul and Barnabas, who were then traveling to the city of Antioch. There, Thekla again faced danger when a local nobleman, who found her attractive, tried to force his attentions on her. She fought him off, but he complained to the governor and, once again, Thekla was sentenced to death. This time, her escape from death was even more dramatic. The lioness which was sent into the arena to kill her became tame and harmless and then killed the bear that was sent in next. Other miraculous escapes followed and Thekla was finally sent away by the authorities.
Following St. Paul to Myra, the young women now received his blessing to lead an ascetic life, so she traveled to the mountains of Syria where she began her solitary life of prayer and meditation.
Some years later, there was another escape by Thekla – this time when a man, seeing her praying in the mountains sought to attack her. As in the past, God provided a means of escape. A crevice opened up in the rocky mountainside and Thekla was able to climb through it to safety.
St. Thekla lived many more years and fell asleep in the Lord at the age of 90. Young women who had been inspired by St. Thekla's life came to form a monastery around her cell and to build a chapel for her relics. 1900 years later, this monastery still thrives in the hills above the town of Ma'loula in Syria.
We give thanks to God for the courage and conviction of the young Thekla and pray that she will intercede for all young people who would strive to follow Christ.
Note: At Antiochian Village, there is a shrine containing a relic of St. Thekla. Annually, on a weekend nearest her feast day, a pilgrimage takes place, with those attending praying at the shrine of St. Thekla.