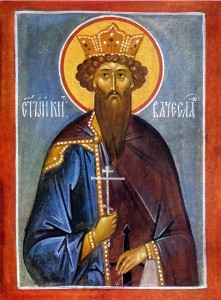 (Feast Day ~ September 28)
The description of Wenceslas as "good" in the English carol "Good King Wenceslas" is an accurate one. In the difficult period when the people of Bohemia were slowly accepting the Christian faith, Wenceslas provided his people with an example of true devotion to Christ. After his untimely death, he was recognized as a saint and an intercessor for the Czech people.
As the elder son of Vratislav I, Duke of Bohemia, Wenceslas was expected to succeed his father and rule the people of Bohemia. He was also the grandson of Borivoj and (St.) Ludmilla, who had been converted to Christianity by Ss. Cyril and Methodius and had begun leading the Bohemian people into the faith. But Wenceslas' mother, Drahomira, was a pagan princess who had been baptized at her marriage but never fully accepted Christianity. Grandmother Ludmilla was largely responsible for raising Wenceslas and teaching him the Christian way of life.
Wenceslas' father died when the child was thirteen years old and the widow Drahomira reverted back to her pagan roots. As regent for her son, she first arranged for the murder of her mother-in-law (who was strangled with her own scarf while at prayer) and then began to influence the nobles against the Church and the practices which her husband's family had instituted for justice and peace. Around the age of seventeen, Wenceslas assumed full governance of Bohemia and fought hard to bring his country back into the fold of Christianity. He was known for fairness and charity to the poor. He built churches and brought relics of the saints to Bohemia for veneration by the faithful.
Duke Wenceslas' brother, Boleslav, had also been raised as a Christian, but he had been more susceptible to his mother's pagan influence and became caught up in the intrigues initiated by her and the other ambitious nobles. In September, around the year 935, Boleslav invited his brother to join him in attending the celebrations for the feast of Ss. Cosmas and Damian (September 27), and while he was en route, St. Wenceslas was murdered by three of his brother's companions. Boleslav then succeeded Wenceslas as ruler.
Miracles were soon reported at the tomb of St. Wenceslas; the fragile peace which he had maintained was broken by war with the German Emperor Otto; and Boleslav was full of remorse for his great sin. He had his brother's relics translated to the Church of St. Vitus (whose relics Wenceslas had obtained) in Prague.
In one further generation, the son of Boleslav, Boleslav II, completed the Christianization of Bohemia through his pious life. May we, like St. Wenceslas, hold fast to our faith in Jesus Christ, even when those around us prefer the ways of evil. Holy Wenceslas, pray for us.