From St. Gregory's Journal, January, 2012. Download it here.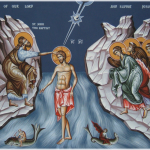 Thanks to all who contributed to making our Christmas celebrations so beautiful: those who served at the altar and those who prepared the vestments and vessels, those who helped to decorate the church building, those who sang and played instruments in praise of the Incarnate Christ, those who shared delicious food, and all who came to pray.
The new year begins with a celebration of our Lord's humanity – his circumcision in obedience to the Law of Moses, a covenant between God and man which has been replaced by Our Lord with Baptism. Since January 1 falls on the Sunday after Christmas this year, we will observe both occasions on this day. A parish brunch at the home of our pastor, Fr. Nicholas, and Kh. Rebecca will follow the service.
Epiphany, the season in which we celebrate the visitation of the Magi to the Christ child, the Baptism of Our Lord by St. John the Forerunner, and the first miracle at the wedding in Cana begins on January 6. We will celebrate the feast day on Thursday evening, January 5, with the Blessing of Water at 7PM, followed by Mass at 7:30 and a pot-luck supper afterward.
The season of Epiphany is also the time when Orthodox homes are blessed by the priest. Please speak to Fr. Nicholas about a convenient time for your home to be blessed and he and Fr. Raphael will schedule the blessings between January 6 and February 4.
Our annual Parish Meeting has been scheduled for Sunday, January 29, following Mass. This is a time when we review our parish activities in the previous year, we discuss the parish budget and elect new members to the Parish Council. It is important that all be present for this parish family meeting.
Again this year, we will prepare for the March for Life by offering a Mass for those who come to participate. We hope to host friends from parishes in Virginia, Maryland, Pennsylvania and Massachusetts. Mass will be at 9AM on Monday, January 23. We will serve breakfast afterward and then go down to the mall for the march. Reverence for life from conception is a basic teaching of our Orthodox faith and we will be joining with people from other faiths who share this belief.