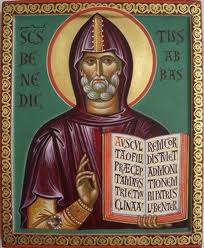 (Feast Day ~ March 21)
Two hundred years after St. Anthony followed the Gospel admonition to sell all that he had and follow Christ to a life of asceticism in the Egyptian desert, another was born whose decision to lead this same life has had a lasting influence through all the centuries since then.
Twins Benedict and Scholastica were born in 480 in the town of Nursia to Christian parents. The world they were born into was crumbling: the Church was suffering from the heresy of the Arians; the Western part of the Roman Empire had been overrun by barbarian tribes, leaving the great monuments in ruins and the people terrified; there was no order in society. When Benedict was sent to Rome to complete his formal education, he saw more of this troubled world and decided to abandon it in order to save his soul. Leaving Rome, he settled in a cave near the town of Subiaco, where he lived in complete solitude until a monk from a nearby monastery began bringing him bread in a basket (which Benedict retrieved by pulling a rope). During three years in this cave, Benedict fought with many temptations, as had St. Anthony before him.
Before long, local shepherds and others who had heard of Benedict came to seek his counsel, and the hermit lost his solitude. When the abbot of the monastery in Vicovaro died, the monks there asked Benedict to join them as their abbot. At first, he refused, but eventually went with them to begin communal monastic life. The new abbot's strict life of prayer and fasting proved to be too severe for these monks, and they tried to rid themselves of him by offering him poisoned wine. When Benedict made the sign of the Cross over the bottle, it shattered and the wine spilled, sparing the life of this man for whom God had much planned. Benedict returned to the safety of his cave, but he was never again able to live in complete solitude.
Others came, seeking to be disciples of the monk, so Benedict, following what he knew must be God's will, found it necessary to organize communities of monks. He established twelve monasteries – each with twelve monks and a prior – who lived, prayed, and worked together, each striving for sanctification within the society of his fellow seekers.
As with all endeavors involving sinful men, there were jealousies, slanders against Benedict, and further attempts to poison him. So he left this area and moved to Monte Cassino (near Naples), where his most famous monastery was founded and where he was abbot for fourteen years. Here the Rule – or way of life – which Benedict formulated was established and proved to be of lasting value. The Rule, which was based in part on other monastic systems, required that a monk take vows of stability, obedience, conversion of life. Thus, the monks of Monte Cassino were committed to their community for life, they led celibate lives of common prayer which excluded possession of private property, they studied Scripture and the writings of the Fathers, and they also worked with their hands and provided hospitality to guests. Abbot Benedict was loved by all the monks here and revered for his charity and his spiritual gifts of healing and "second sight". The abbot was also fearless in rebuking sinful authority: he severely chastised Totila the Goth for his cruelty, so the barbarian reformed his practices and became known for clemency in his treatment of those he conquered.
St. Benedict, foreseeing his death, asked his monks to dig his grave beside that of his beloved sister, Scholastica (who had also lived the monastic life in a women's monastery nearby and who had died forty days earlier). Six days later, the saint fell asleep in the Lord and was buried in the newly-dug grave, in the year 547 or 550. His last advice to his monks was, "Count nothing dearer to yourselves than Christ."
St. Benedict's influence was not widespread at first. As a lay monk, he was probably unknown beyond the few places he lived, and his Rule was written for the use of his monastery only. But God, in his eternal plan, intended for this way of life to be followed by others in many places and in many ages.
Less than forty years after St. Benedict's death, invading Lombards sacked Monte Cassino and left the monastery in ruins. The monks were able to escape with their most precious remembrance of their Abbot – his original copy of the Rule, which they carried with them to Rome. There they settled on the Coelian Hill, in the Monastery of St. Andrew, founded by St. Gregory the Great. From this same monastery, in 597, St. Augustine and his fellow monks traveled to England to convert the Angles to Christianity, taking with them their knowledge of the Rule of St. Benedict. The Benedictine way of work and prayer, of studying and teaching, of hospitality, helped to re-create civilization where it had been destroyed; it brought order where there had been chaos; and it gradually became the standard way of life for monks all over the western world.
May we, like St. Benedict, accept God's will for the direction of our lives even when we had something else in mind; may we always balance our lives with work and prayer; and may we "count nothing dearer to ourselves than Christ." May our holy father, Benedict, pray for us.
[Sources: Every Man's Book of Saints, by Brother Kenneth CGA; The Oxford Dictionary of Saints, by David Hugh Farmer; The Prologue from Ochrid, by Bishop Nicholai Velimirović; St. Benedict and Christianity in England, by Patrick Barry, OSB.]