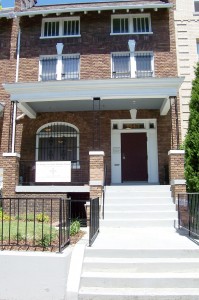 Today we celebrate the Sunday within the Octave of our Feast of Dedication, as it was on May 6th of the year 2007 that His Grace, Bishop THOMAS, was with us to bless and dedicate this building for worship. At that time we prayed that God would visit this place, purify it and make it right for our worship, so that all who call upon God in this house of prayer may know God's mercy and protection. Now we celebrate the anniversary of this day each year, for as long as we worship in this place, remembering and giving thanks. As our building may someday revert to non-church use, it has not been consecrated (which would have been a much longer service), but rather blessed and dedicated (which was a much shorter service).
Today we do what the people of God have done for many centuries. We read of dedicating places of worship in the pages of Holy Scripture. In Exodus, chapter forty we read how the tabernacle and its furnishing were blessed for worship. First Kings, chapter eight tells of the dedication of King Solomon's Temple. After the first temple was destroyed, Ezra, chapter eight tells how the temple was rebuilt and dedicated again; and then later it was rededicated in the second century before Christ, as we read in the Book of the Maccabees. The feast of Hanukkah celebrates this dedication for eight days each year. St. John's Gospel tells us that Jesus went to the Temple in Jerusalem on this Feast of Dedication. From earliest times, these annual festivals of dedication have been occasions to give thanks that God is with us; He listens to and feeds His people in certain places that we set aside in His Name.
Celtic Christians have long spoken of 'thin places;' places where the distinction between heaven and earth is 'thin' and God makes Himself known. Some of these places are just natural, given to us by God, and are revealed to us; many of these have been places of worship (pagan or Christian) for thousands of years – others are created and set aside by man. In Genesis, chapter twenty-eight, we read the story of the Holy Patriarch Jacob who, while on a journey, came to a certain location and spent the night there. He dreamed a dream and saw a vision of a ladder set up from heaven to earth and the angels of God ascending and descending upon it. God Himself appeared and there spoke to Jacob. When Jacob awoke he spoke the words which we heard the choir sing in our introit this morning, "How dreadful (meaning 'how awesome') is this place: this is the house of God, and the gate of heaven." Jacob knew that God was there, and so he showed reverence to that place. The story of Jacob's ladder foreshadowed the Blessed Virgin Mary, who connected heaven and earth, by bringing forth the Son of God from her womb. And Mary herself, foreshadows the Church, wherein heaven and earth are joined and God is with us.
Here in our small, humble home, God feeds us with Word and Sacrament. We speak of the Church as the Ark of Salvation, whereby we are saved from the storms of this world, as Noah and his family were saved through the flood. We speak of the Church as the hospital for our souls, as here we receive healing medicine for our lives. In the short time we have been here, we have celebrated six of the seven great Holy Mysteries or Holy Sacraments, here in this building. We baptized Sarah and Catherine, we have chrismated Patrick and Skip, Keivan received ordination as a Reader, most of us have made our confessions here, have received Holy Communion and the anointing of Holy Unction. At this point, the only Sacrament we have not celebrated here is Holy Matrimony, as the weddings we have celebrated have required much larger buildings. In a sense, everything that we do here is sacramental, in that it points us to a greater reality than we can see, as everything we do here should point us towards God. The celebration of these Holy Mysteries gives us life and sustains our life in Christ. The celebration of these Holy Mysteries, in and of itself, makes this a 'thin place' as the grace of God is bestowed upon us and the life of heaven and earth is joined in a manner that is easier for us to see and understand – and enter into.
Now we certainly believe that the Church itself is the whole people of God, united in faith in union with our bishops. We know that the Church is not the buildings, and the Church would surely survive without gothic cathedrals, byzantine basilicas or converted row-houses, but these buildings do house the church and we do the work of the church in these places, and so we honor and give reverence to these material vessels, in much the same way that we honor the material bodies that God has given us, and as we even venerate the relics of the saints because these earthen vessels have contained what is holy and by these vessels, God's grace has been conveyed to us.
In our gospel reading for today we heard the story of Zacchaeus. Despite the life he had lived, when he turned from his wicked ways and turned towards Jesus, Zacchaeus heard those wonderful words from God Himself: "today has salvation come to this house." These are words we should all long to hear: "today has salvation come to this house." In Scripture there is a double meaning to the word "house." Yes, a house is a building that you live in, but Scripture also refers to your house as the life you build, the life you live. Christ is to be the sure foundation of our lives. We are to become temples of the Holy Spirit; like the Blessed Virgin Mary, we are to be fit dwelling places for God to abide in us. Writing around the year 400 in North Africa, St. Augustine of Hippo tells us that we are to build and adorn our lives, even as we build and adorn our church buildings. He said, "What we see, here, wrought in these material walls, must be done spiritually in our souls. Just as stone and wood have been perfected by the work of men's hands, so must our human nature be finished by the grace of God unto the perfection of His own beauty." We are to work to make our lives beautiful for God – and we do this best by striving to be like Him and by spending time with him. We come here, to this temple, in order that we may better transform our lives into temples for God. This is the House of God and this is the gate of heaven. Thanks be to God.
(Preached in 2009)