Therefore, brethren, stand fast, and hold the traditions which ye have been taught, whether by word, or our epistle. Thessalonians 2:15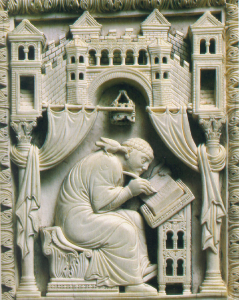 The Orthodox Church was founded by our Lord and God and Savior Jesus Christ on the Day of Pentecost as He gave the Holy Spirit to His disciples. We keep the faith of these Apostles without addition or subtraction. We always have and we always will. Our most essential beliefs are laid out in our Creed, which the Church adopted at the Councils of Nicaea and Constantinople in the fourth century. The Orthodox Church around the world has approximately a quarter of a billion members.
St. Gregory the Great Orthodox Church welcomes visitors at all of our services and other events. In 2017 we moved to our new home at 13407 Roxbury Rd, Silver Spring, MD. Note that Roxbury Rd is a gravel road; we are at the end of the road on the left. In the future we hope to have an entrance to our property on Randolph Rd.
Our congregation began in 1996, meeting in the chapel of Ss. Peter & Paul Orthodox Church (which at that time was located in Bethesda, MD). We later rented space from a Methodist Church in DC for a number of years before buying a large row house which had been converted into a church in Columbia Heights. In time we outgrew the space, and parking became impossible as the neighborhood became 'gentrified,' leading us to search for a new home with room to grow.
As authorized by the Patriarchate of Antioch we use the ancient liturgy of St. Gregory. The venerable Roman rite is virtually unchanged since the time of St. Gregory (who died in 604AD) took what was already old and gave it its current organization.
Our weekly Worship Schedule
Vespers (Evening Prayer) Saturday from 6-6:45
Matins (Morning Prayer) Sunday 9:00-9:30
Sung Mass (Divine Liturgy) Sunday 9:30-10:45
Coffee Hour, Sunday after Mass
Confessions are heard after Vespers, during Matins, or by appointment. Holy Days are frequently celebrated on weekdays with a 7:30 p.m. mass followed by a potluck dinner, or a Saturday morning mass. For a tentative list of weekday masses check the calendar. Feel free to call or email to confirm.
Matins, like Vespers, includes prayers, lessons, hymns and chanted psalms. Many people arrive during Matins, pick up an copy of The English Office Noted from the bookcase near the door and find a seat before Mass starts. If you arrive after Mass has begun, take a bulletin. The bulletin will refer you to the proper pages in the hymnal and missal (which you will find in the pews).
Our pastor, Fr. Nicholas Richard Alford, is a former Episcopal priest who was raised in the Southern Baptist and Christian (Disciples of Christ) churches. He and his wife, Khouria Rebecca, left the Episcopal Church and became Orthodox in 1995. In 1996 he was ordained by His Grace, Bishop ANTOUN, and assigned to our newly formed mission. In 2001 he received the Doctor of Ministry degree from Pittsburgh Theological Seminary and the Antiochian House of Studies. He has been blessed with the opportunity to help several congregations of converts enter the Orthodox Church. He also works as the General Manager for Lewis and Hitchcock, Inc., a company that builds, restores and takes care of pipe organs.
Our assistant pastor, Fr. Jeffrey Raphael Garcia, is a former Roman Catholic priest. Fr. Raphael served parishes in the Philippines and in Virginia before becoming Orthodox in 2010. Raphael and Catherine were married in that same year. Ordained in 2011 by His Grace, Bishop THOMAS, Fr. Raphael has completed the St. Stephen's Course of Orthodox Studies and certification in Clinical Pastoral Education. He also works as a chaplain at Sanctuary at Holy Cross in Burtonsville, MD.
Directions
Get directions to St. Gregory Orthodox Church.
Questions?
To read more about what to expect that is tailored to your level of familiarity, choose one:
I'm not a Christian, but I'm curious…
I'm a Christian, but not Orthodox…
I'm Orthodox, but I'm accustomed to the Eastern Rite…
What's the difference between various Orthodox churches?
I'm not a Christian but I'm curious…
God has revealed Himself as a community of love: Three Persons (Father, Son and Holy Spirit) united in all things. In His great love for mankind, God became what we are that we might become what he is. In the life of Jesus Christ we see both who God is and how we are to be. God created man in His own image and likeness, and each of us makes the free choice, every moment, to draw closer to God by loving God and our fellow men, or further away by turning from them. Often it is hard enough to know the right choice, and even harder to choose it. That's why we strive to follow the example of Christ and the counsel of His church under the continual guidance of the Holy Spirit.
St. Gregory's is a community called together to grow in our knowledge and love of God. We strive to help one another along the way. All are welcome to join us for worship, fellowship, and discussion.
I'm a Christian, but not Orthodox…
The best way to learn about the Orthodox Church is to attend our worship. We welcome you to join us for worship and fellowship, whether you are new in town, visiting the area, or seeking a church home. Many Americans are not very familiar with the Orthodox Church, much less its Western Rite. If you attended a Roman Catholic mass before 1962, you'll find our liturgy familiar. If you've frequented Anglican services, much of the music in our hymnal and most of Matins and Vespers will be very familiar. If you've admired Byzantine icons, you will understand our art. If you've read the King James Bible, you'll recognize it when lessons are read or sung. If you've studied the early Church, that's us.
We normally sit for the Epistle and the homily, kneel (or stand) for the Canon (the Eucharistic Prayer), and, if we are healthy, stand during the rest of the services. We mark ourselves with the sign of the cross when we receive a blessing. We bow our heads slightly when our Lord's name is spoken. We bow and/or make the sign of the Cross whenever the three Persons of the Holy Trinity are mentioned. After the consecration, all duly prepared Orthodox Christians are invited forward for Communion. All others are welcome to come forward to receive the priest's blessing and antidoron (blessed bread offered to all in a spirit of Christian fellowship).
I'm Orthodox, but I'm accustomed to the Eastern Rite…
St. Gregory's is a congregation of the Antiochian Orthodox Christian Archdiocese of North America (under Metropolitan JOSEPH Al-Zehlaoui). In recent centuries, the vast majority of the Orthodox parishes of the world have used the eastern liturgies of St. John Chrysostom and St. Basil (with some use of the Liturgy of St. James). But since the 1950's a few canonical parishes use western liturgies, such as the (pre-schismatic) Liturgy of St. Gregory, in the forms approved by the Patriarchate of Antioch and the Russian Orthodox Church outside of Russia. We welcome all our Orthodox brethren to join us for worship and (when prepared) for Holy Communion. The music and much of the text of the liturgy will be new to you, but we share the same bishops, the same icons, the same antidoron, and most importantly the same Faith. The Western Rite is a different expression of our common faith in the "cultural language" of the West.
What's the difference between various Orthodox churches?
Our Lord founded One, Holy, Catholic, and Apostolic Church on the faith of the Apostles. We know it today as the Orthodox Church. The Church in Greece is sometimes called the Greek Orthodox Church, the Church in Russia is sometimes called the Russian Orthodox Church, and so forth. While the Church is organized along national lines, all canonical Orthodox parishes throughout the whole world are part of the same Church and share the same Faith, hence we are "in communion" with one another.