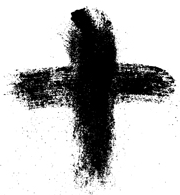 The solemn ceremony of blessing ashes made from the previous year's burned palms and using these ashes to mark the foreheads of the faithful has become almost universally used in Western churches to begin the penitential season of Lent.
Ancient Hebrew practice, as described in the Old Testament, often included the putting on of ashes and sackcloth as a sign of penitence and mourning. Daniel's prayer [Daniel 9:3] illustrates this practice: "Then I turned my face to the Lord God seeking him by prayer and supplication, with fastings and sackcloth and ashes." Our antiphons for Ash Wednesday remind us of these practices: "Let us change our raiment for sackcloth and ashes. Let us fast and mourn before the Lord, for our God is exceeding merciful to forgive us our sins." [Joel 2:17]
As the priest makes the sign of the Holy Cross on our foreheads with the ashes, saying "Remember, O man, that thou art dust and unto dust shalt thou return" it is made clear that not only are we following ancient penitential practice, but that we are remembering that the sin of our father Adam brought death and destruction into the world. We are subject to that death and are only saved from utter and final destruction by the death and Resurrection of our Savior Jesus Christ.
Liturgical scholars believe that the Christian use of ashes for repentance originated when public penance was practiced. Those who had been excommunicated for serious sins would stand at the doors of the church dressed in sackcloth and be sprinkled with ashes as penitential psalms were sung. The doors were then shut and the penitents were not received back into the church until Maundy Thursday. This practice, which may have begun in Gaul in the 6th century and later spread to other parts of the West, was by the 10th century extended to include all Christians as they were called to an intense time of repentance in Lent. Some suggest that this change (which in effect combined penitence with the preparation of catechumens for baptism in the Paschal Vigil) was the result of the large numbers of converts after the barbarian invasions and the fall of Rome.
In the readings at the Ash Wednesday Mass we are given another admonition – we are to receive ashes, mourn our sins and begin our fast with joy and not with an outward ostentatious show. For God is "gracious and merciful, slow to anger and of great kindness" [Joel 2:13] and he will reward us openly for the repentance which we make secretly to him [Matt. 6:16].
Grant, O Lord, to thy faithful people that they may enter upon the solemn observance of this fast with reverence and godly fear, and in peace and quietness may fulfil the same. Through Jesus Christ our Lord, who liveth and reigneth with thee and the Holy Spirit, ever one God, world without end. Amen. (Collect for Ash Wednesday)