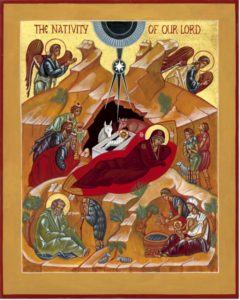 Work on our property on Roxbury Road in Silver Spring is underway and the contractor is striving to have it completed in time for Christmas (and possibly the weekend before). We have now, finally, secured all the County permits for work to be done and, if all the pieces fall into place (i.e., ordered materials arrive on time, the weather is favorable for paving, etc.), and the inspections of the work pass, we will finally have an occupancy permit and be able to begin worship in our new home. Please check our website for the latest information on the progress of the work and where services will be held.
The season of Advent is a time for fasting, prayer, and almsgiving to prepare our hearts, minds, and bodies for the celebration of the Nativity of our Lord and Savior Jesus Christ. For the annual collection of canned goods for the "Food for the Hungry" program, please keep your contributions at home until we are able to put them together at the church and offer them to a local feeding program. A booklet of home devotions for Advent is available to further aid in our preparations for the celebration of the Nativity.
If construction work is finished by December 17, our annual service of Advent Lessons and Carols will be held at the church at 6PM. This para-liturgical service, which includes readings of the prophecies concerning the coming of the Messiah and hymns and carols which look forward to the Nativity of our Lord, provides a time of quiet in the midst of the chaos of our secular world. (This service will have to be cancelled if the building work is not completed – the third time in our twenty-year history, once for a broken water pipe which flooded the parish hall and once for an early winter blizzard.)
The first Mass of Christmas will be celebrated on December 24 beginning at 10PM, preceded by a half-hour of carols and other Christmas music. Confessions will be heard beginning at 8:30PM. Mass will also be celebrated on Christmas morning at 10AM. It is appropriate to celebrate the greatest gift of God – his own Son – before opening the gifts we give each other at this time.
Read the full December Newsletter here.