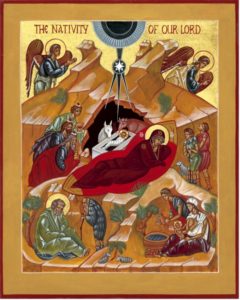 In preparation for our celebration of the Nativity of our Lord, the Church encourages us, during Advent, to increase our care for the poor, to multiply our charitable endeavors, and to remember those who are in need. At St. Gregory's, several ways to do this are presented at this time. Articles for flood buckets and health kits are being collected for distribution by International Orthodox Christian Charities to those areas in our country and throughout the world which have been affected by weather-related disasters, and canned and packaged dry foods to be donated to a local food bank are being collected for the Food for Hungry program of our Archdiocese.
A collection of Advent devotions, which includes scripture readings and prayers for every day of the season, has been prepared for use in the home and is available at the church. The Great "O" Antiphons are also included. Please use these devotions to help make your hearts ready to receive Christ at the celebration of His Nativity. Advent calendars and Advent wreaths are additional ways to mark the approach of the festival of our Lord's birth.
Our annual service of Advent Lessons & Carols will be held on Saturday, December 16. This opportunity for quiet reflection on the coming Nativity of our Lord through scripture readings and the singing of Advent hymns provides a respite from the frantic pace of our secular world in December.
As the Fourth Sunday of Advent is also Christmas Eve this year, coffee hour after the morning Liturgy on December 24 will be brief so that preparations for the evening may quickly commence. Confessions will be heard beginning at 8:30PM, a period of carol singing and other Christmas music will begin at 9:30, and the first Mass of Christmas will be celebrated at 10PM.
On Saturday, November 11th, we welcomed Fr. Gregory Mathewes-Green, pastor of Holy Cross Church in Linthicum and diocesan missions coordinator, for a discussion on mission and evangelism. While we have moved to an attractive new facility and taken a number of steps to make our presence known in the neighborhood, we must to take a more active and personal role in inviting others to come with us to church. We will continue this conversation at coffee hour on the first Sunday of each month.
Read the full December newsletter here