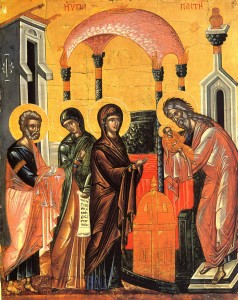 The great 'blizzard of 2016,' which paralyzed the Washington DC area for days, also had its impact on St. Gregory's parish. This was to have been our visitation weekend from Bishop JOHN, but after attending the March for Life, Sayedna took the last train out of Washington to get home to Massachusetts and avoid being snowed in here for days. We hope that his schedule will allow him to visit another time – preferably in the Spring or Summer! The snow also prevented us from having any services the weekend of January 23-24, something which has only happened twice before in our twenty-year history.
Thanks to all who participated in the funeral for our Subdeacon Jerome and who helped with the mercy meal afterward. We are grateful to Fr. Joseph Rahal and St. George's Church for allowing us to use their facilities once again.
The Feast of the Presentation of Our Lord in the Temple will be celebrated on Monday, February 1, with 7PM Vespers, 7:30 Mass and pot-luck supper following.
We are fortunate to have a longer period of time for house blessings this year. Please schedule yours with Fr. Nicholas or Fr. Raphael by February 27, the last possible day to sing the Alleluia before the beginning of Pre-Lent.
It is with sadness that we bid goodbye to Doug and Linda Byrum, who are returning to their home in Rhode Island. We thank them for all they have done in the parish for these 3 years – for Doug's diligent service as Parish Council President, for Linda's excellent service as a seamstress and good cook, for their hard work in organizing the move from the Euclid Street building to Roxbury Rd., and many other contributions. We shall miss them but wish them well.
We are grateful to Sister Michele for sending a copy of the book The Names of Jesus by Fr. Thomas Hopko for our parish library. Our library is currently stored at our new Roxbury Road location and books may be checked out during this interim period.
View the complete February newsletter here.