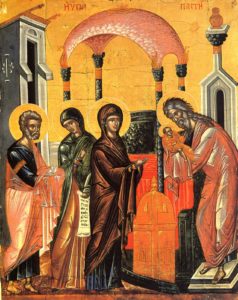 We begin this month with the celebration of the Presentation of Our Lord in the Temple on the Eve, Wednesday, February 1. Also called the Purification of the Blessed Virgin Mary, or Candlemas, and the Meeting of the Lord, this feast day includes the blessing of the candles which will be used during this year and we end by anticipating the feast of St. Blaise (February 3) with the blessing of throats. Vespers will be at 7pm and the Blessing of Candles and Mass will follow, around 7:30pm.
At our Annual Parish Meeting on January 22, we welcomed new Parish Council members, Karl Tsuji and Nathaniel Green. Many thanks to Dave Caldwell and Patrick Woolley for their faithful service as they rotate off the Council.
Thanks to all who helped to collect 129 pounds of canned and packaged food for the "Food For Hungry People" program of our Archdiocese and thanks to the Caldwell family for delivering this food to the Manna Food Bank in Gaithersburg.
Saturday, February 11, will be the last day for Epiphany house blessings. Please speak with Fr. Nicholas or Fr. Raphael as soon as possible to schedule a blessing.
His Grace, Bishop JOHN, recently represented the archdiocese at the March for Life. While here he was very pleased to see the renovations to our property and looks forward to being with us for a blessing of our new church later this year.
As the Epiphany season draws to a close, we begin to make our preparations for the greatest of Christian feasts – Pascha. The first of our preparations are liturgical: the Gloria in excelsis is omitted from the Mass, we begin to use purple vestments, and the word which best expresses our Christian joy is put aside for a time of reflection and repentance until it reappears at our Easter celebration: Alleluia! February 5 is the last Sunday after Epiphany and the three "gesima" Sundays (Septuagesima, Sexagesima and Quinquagesima) precede the beginning of Lent on Ash Wednesday, March 1.
Read the full February Newsletter here.