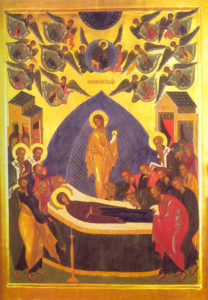 We will celebrate several feast days in July and August. July 2 is the feast of the Visitation of Our Lady to St. Elizabeth soon after the Annunciation. Since this feast falls on a Sunday this year, we will all be privileged to hear the beautiful story and liturgical texts for the occasion. The Transfiguration of Our Lord (August 6), when a glimpse of Christ's divinity was revealed to three of the disciples, also falls on Sunday this year.
On Monday, August 14, the Eve of the Dormition (Assumption) of Our Lady, we will have Mass at 7:30PM, preceded by Vespers at 7PM and followed by a pot-luck supper. It is in observing the feasts and fasts of the liturgical year, by walking in the footsteps of Our Lord and the saints, that we enter more fully into the life of the Church and this life becomes our own.
Fr. Nicholas will attend the Archdiocesan Convention in Miami, Florida, July 24-30, where representatives of our Antiochian family will gather to worship and report on the work of our archdiocese. At this year's convention, Bishop ANTOUN, who is retiring, will be honored for his many years of service in the Church. It was Bishop ANTOUN who ordained Fr. Nicholas in March of 1996 and who chrismated many of the first members of St. Gregory the Great parish. We are grateful for his support and encouragement as we began our Western Rite mission.
We bid farewell to Bernt Johnson and his family as they are moving to Amman, Jordan, for his next State Department posting. We wish them well and pray that they will have many opportunities to visit places associated with the life of our Lord and the saints while living in that part of the world.
Mary garden update: Unlike the deer (hart) in the Psalms, our church deer long after Easter lilies instead of waterbrooks! All the lilies that were planted after Pascha have now been devoured by hungry deer but they seem to be uninterested in any of the other plants. We have now added lavender, which in horticultural folklore is associated with the flight into Egypt, and another Lady's pincushion flower (both 'deer-resistant').
Read the full July & August Newsletter here.