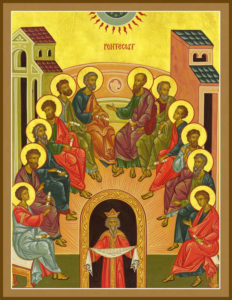 We celebrate two great feast days in this month. On Ascension Day, forty days after the Resurrection, as Christ ended his bodily presence on earth, we celebrate the fact that He carried our human nature, which He had assumed at the Incarnation, into Heaven. Our celebration of Ascension Day will be on the Eve, Wednesday, June 8, with Vespers at 7pm and Mass at 7:30 with a pot-luck supper following (location TBA). The Paschal Candle is extinguished following the reading of the Gospel during this service.
On Pentecost, fifty days after the Resurrection, we celebrate the gift of the Holy Spirit, which descended upon the Apostles, emboldening them to continue the work of preaching, teaching, performing miracles, and establishing the Church throughout the world. On Pentecost, June 19, the portion of the Epistle which tells the story of the Apostles' ability to speak to all people in their own language will be read in as many languages as we can manage, as is our custom.
The Parish Life Conference will be held at Antiochian Village (near Bolivar, Pennsylvania) from June 29 to July 3, with Western Rite Vespers offered on Friday evening, July 1. Please speak with Fr. Nicholas if you are able to attend any part of this annual gathering of our church family.
Thanks to all who participated in our parish work day in May. It is important during this interim time, while we await County permits to remodel and occupy our new home, that we maintain the beauty of the grounds and keep the building in good repair.
Read the full June newsletter here.