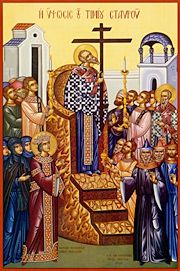 The month of September includes a number of holy days, beginning with the Feast of the Nativity of the Mother of God on Saturday, September 8, which we will celebrate with Matins at 9:30AM and Mass at 10:00. The secondary feast of our patron, St. Gregory the Great (September 3, the day of his consecration), will be celebrated on the Sunday within the Octave, September 9. On the eve of the feast of the Exaltation of the Holy Cross, September 13, we will sing Vespers at 7PM, Mass at 7:30 and enjoy a pot-luck supper afterward. And on Saturday, September 29, the Feast of St. Michael, we will have brunch following 9:30AM Matins at 10:00 Mass. Saturday Vespers services will resume on September 1 at 6PM.
A parish picnic has been scheduled for Saturday, September 8, following the Liturgy, at Grove 13 of Rock Creek Park. There will be grills for cooking, games to play, room for kids to run, and lots of good fellowship. Thanks to Joana Tasi for making all the arrangements.
Sunday School classes for children will resume on September 9 following the Liturgy (and after a brief time at coffee hour). Younger children will meet with Jennifer Caldwell and older ones with several teachers on a rotating schedule.
Fr. Nicholas will attend the Clergy Retreat of the Eastern Dioceses from September 18-21 at Antiochian Village. The pastors of our four Western Rite parishes have been offering Western Rite Vespers or Compline at this retreat for several years, and this year there will be a Western Rite Mass for the first time.
As many of our parishioners have moved recently, a new parish directory will soon be prepared and placed on the parish e-mail list.
View the full September newsletter here.