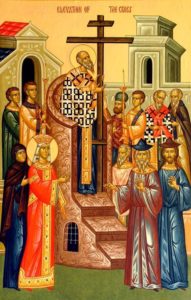 The following feasts which fall on week-days this month will be celebrated at St. Gregory's: the Nativity of the Blessed Virgin Mary (September 8) on the Eve, September 7; the feast of the Exaltation of the Holy Cross (September 14) on the Eve, Wednesday, September 13; and the feast of St. Michael and All Angels on the Eve, Thursday, September 28. On each of these evenings, we will sing Vespers at 7PM, Liturgy will be celebrated at 7:30, and a pot-luck supper will follow.
In the liturgical cycle of the Western Rite, Ember days are observed on the Wednesday, Friday, and Saturday following Holy Cross Day. On these days of fasting, we pray for the mission of the Church and for those ordained to serve in the Church.
Our annual parish picnic is planned for Sunday, September 24, following Liturgy. Please plan to stay after church for an afternoon of food, games, and fellowship. If it rains, the "picnic" will be inside.
In every home, it takes all members of the family working together to maintain the household. So it is in the Church – God's house – where all members of the parish family have to "pitch in" to keep things in order. Thanks to Sharon Green for organizing our "chores" so that we can keep our chapel and parish hall clean and beautiful.
Read the full September newsletter here.