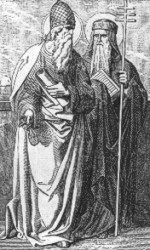 (Feast Day ~ April 22)
Those who do genealogical research in an effort to learn more about their family heritage know that there is often not much information about their ancestors. A birth certificate, record of baptism, register of marriage, and a death notice are often all that can be learned about numerous souls whose lives brought about the unique genetic make-up of the researcher, as well as contributing to the collective beliefs, talents, and interests of the family.
The saints of the Church are our spiritual ancestors and our Christian family tree is a mighty tree with numerous branches, buds, and flowers. But, as with our biological families, there are many saints whose lives were not recorded in detail or passed down for future generations. For them, it is often a martyr's courageous death or a particularly zealous act of charity which won them the designation of "saint" with their names remembered on the Church's calendar.
On April 22, we marked the heavenly birthdays of two saints about which we know very little. Saints Soter and Caius were both popes of Rome and both are given the martyr's designation.
St. Soter was elected pope in 173 on the death of his predecessor, St. Anicetus. Eusebius, in his ecclesiastical history, tells us the little we know of this holy bishop. We are told that he strongly opposed the heresy of the Montanists, a rigorist apocalyptic sect which condemned the practices of Orthodox Christianity. He is described as being like a father to all under his pastoral care, especially those who were persecuted for their faith. In his concern for the faithful throughout the whole Church, he wrote a letter to the Christians in Corinth to encourage them in their trials. There is no extant copy of this letter, but the letter of thanks from St. Dionysius of Corinth does exist, and in it we are told that Pope Soter's letter was read in the Corinthian church on Sundays , along with the letter of St. Clement. St. Soter may not have been put to death for his faith, but was given the title "martyr" for his struggles during a time of persecution.
St. Caius also received this designation a century later. He became pope in the year 283 during a peaceful time for the Church, but soon after, another fierce persecution began under Diocletian (who may have been a relative of his). Pope Caius was encouraged to hide himself from the authorities so that he could continue ministering to the Christians who were in great danger. He helped St. Sebastian and others like him to face torture and execution with steadfast faith. St. Caius fell asleep in the Lord and was buried on April 22, and we celebrate his memory on this day with that of St. Soter.
Even though history has not provided us with extensive details about the lives and witness of these two saints, we know that they – with a multitude of others – contributed to building up the Church of Christ in a crucial time. Because they strove for holiness through love and concern for others and by maintaining Orthodox beliefs, they helped to build upon the foundation laid by Christ and his Apostles which we have inherited.
We give thanks to God for our spiritual ancestors, especially Saints Soter and Caius, and ask that they pray for us.