(Feast Day ~ February 5)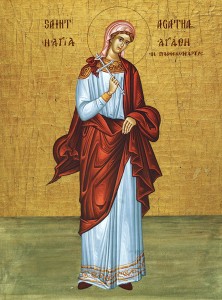 Holy Scripture records very clearly our Lord's warning to those who would corrupt the young: "But whoever causes one of these little ones who believe in Me to sin, it would be better for him if a millstone were hung around his neck, and he were drowned in the depth of the sea." [Matthew 18:6] One of the numerous Christians who gained the crown of martyrdom during the persecution of the Emperor Decius, St. Agatha endured not only condemnation and torture, but also the indignity of attacks on her virtue before giving her life for her faith.
Agatha was from a prominent wealthy family in Sicily. Her parents were devout Christians who had taught their daughter to love Christ and to be generous to the poor. Agatha was also a great beauty and there were many young men who sought her affection.
The Christians of Sicily had been relatively free from danger until Decius became Emperor in 249 and replaced the governor of Sicily with Quintianus, an immoral man who gladly carried out the Emperor's orders to persecute Christians.
When the 15-year-old Agatha was arrested and brought before the governor, he was very attracted to her good looks. He thought he could easily have her for himself by offering to drop all the charges against her in exchange for her "favors." The girl replied that her body, as well as her soul, belonged to God and that she could not do as he suggested. When Quintianus even offered to marry her, Agatha responded that, if she were inclined to marry, she could only marry one who was also a Christian.
The governor was not accustomed to having his desires rejected or his position of authority ignored, but he came to the conclusion that Agatha's youth and lack of experience were the reason for her response. So he decided to be patient and remedy the situation another way. He had the girl taken to the home of a Frontisia (called "Aphrodisia") who, with her daughters, operated a house of prostitution. These harlots were to teach Agatha how to be one of them so that Quintianus could then freely take advantage of her.
St. Agatha endured much abuse and humiliation in this place, but she survived through many prayers and tears and remained faithful to her commitment as a Christian.
The prostitutes soon complained to Quintianus that Agatha was hurting their business, so the governor, in his anger, resorted to the usual methods for attempting to get Christians to recant their beliefs.
Agatha was subjected to torture and even had her breasts cut off, but her wounds were miraculously healed as she prayed to St. Peter in prison. Through all her ordeals, Agatha never denied Christ, and the lovely young girl finally gave up her spirit on February 5, 251. Word of her courage in the face of these great trials spread quickly and many people found great comfort and inspiration in the example of St. Agatha. Her story was told by St. Jerome (5th century) and the poet Venantius Fortunatus (6th century), she was included in the calendar of Carthage (c. 530), and churches were dedicated to her in Rome and Ravenna in the 6th century.
Today, amid reports of more and greater threats to children and youth, we ask that St. Agatha intercede for the boys and girls who are forced into slavery and prostitution, that she pray for those who are the victims of child pornography and those taught to be child soldiers. May God, through the prayers of holy Agatha, have mercy on them and save them.